Several Fiat workers tell the story of their life, work, and struggle at Fiat in the 1960's and 1970's. At the same time, memory makes something alive again in one of the worker's solitary gestures. However, twenty years later....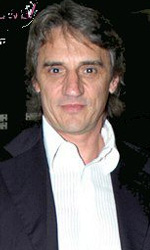 Mimmo Calopresti
Mimmo Calopresti (Polistena, Reggio Calabria; 1955) is a director and screenwriter. His films have been presented at numerous national and international festivals, including those in Salsomaggiore, Montbéliard, Munich, Stuttgart, Turin, Barcelona, Madrid, Florence, Ferrara, and Cannes. He wrote a screenplay that won the 1994 Solinas award, which he used in the making of his first feature film, La seconda volta.
FILMOGRAFIA
A proposito di sbavature (video, 1985), Ripresi (cm, 1987), Fratelli minori (cm, 1987), Paolo ha un lavoro (doc., 1991), Paco e Francesca (doc., 1992), Remzjia (doc., 1992), 1943 La scelta (doc., 1994), 43-45 Pace e libertà (doc., 1994), Alla Fiat era così (doc., 1990), La seconda volta (1994), La parola amore esiste (1998), Tutto era la Fiat (doc., 1999), Preferisco il rumore del mare (1999), La felicità non costa niente (2002), Una bellissima bambina (cm, 2004), Dov'è Auschwitz (doc., 2005).
Director and screenplay: Mimmo Calopresti.
Director of photography: Gherardo Gossi.
Sound: Simone Carraresi.
Editor: Pierfranco Milanese.
Cast: Giorgio Boccassi, Pino Bonfiglio, Calogero Montana, Andrea Papaleo, Luciano Parlanti, Andrea Pupillo, Luigi Zappal`.
Production company: Minnie Ferrara & Associati, via Orti 16, 20122 Milano, Italy.