The bitter and cynical story of a grandfather who lives with his son, his daughter-in-law, and his two grandchildren. He is just about useless for society and for his family. He is a bit of a burden, and has to be treated as such. Everything has been seen for democratically and perfectly organized, except that the grandfather decides to buck the system.

"Everyone goes through the time when his own parents stop being a guide or a point of reference and become 'old', burdened by their own problems and needs. These needs almost never coincide with our own. To tell a story like this is a deliberate examination of our conscience and way to face our own sense of guilt" (Marino Bronzino).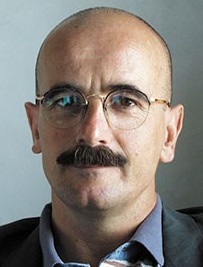 Marino Bronzino
Marino Bronzino (Turin, 1956) works as an Art Director in connection with the direction of commercials. In 1990 he began to write, produce, and direct his first short films, alternating fiction with documentary. His first short was a homage to his father.
FILMOGRAFIA
Io e mio padre (1990), Caro Marino (1993), Portami via Back Stage (1994), Memorie (1994), Mille Innocenti Back Stage (1994), Continuerñ a cercarti (1995), Cous cous Back Stage (1996), Tre generazioni una sola passione, il cinema! (1996), Cosa fai all'una mangiamo una cosa insieme (1996), Il paradiso degli animali (1997), » ora che vada (1998), Borotalco (1999), L`appartamento di sopra (1999), Cos'e' l'amor? (1999), Caterina (1999), La signora Varagnolo (2000), 315 Volte Novecento (2001), Quando meno te l'aspetti (2001), Bar B. (2002).
Regia, soggetto e sceneggiatura: Marino Bronzino.
Director of photography: Pietro Sciortino.
Art director: Barbara Bossone, Marco Mutton.
Sound: Paolo Favaro.
Editor: Pino Gadaletta.
Cast: Silver Veglia, Sergio troiano, Adriana Massaioli, Pietro Massaioli, Nicoletta De Biasi.
Production company: Unistudio Torino, via Druento 294, 10078 Venaria Reale (TO), Italy, tel. +39-11-4240652, fax +39-11-4240678. Co-production: Dune Torino.