Two film letters dedicated to the "refusniks," the 5 young Israeli soldiers who were condemned for having refused to do their military service in the occupied territories as conscientious objectors. In the first, Godard shows the firing squad scene from his film Les Carabiniers (1963), in which a young girl recites a poem by Majakovskij before the firing squad and is accompanied by the song L'oppression by Leo Ferré. In the second letter, photographs about the Palestinian conflict and the idea of resistance (in particular Tienanmin Square) alternate with shots of a hand painting the star of David using the symbolic colors of Hebraism and Islam: blue and green. At the end, the following words appear: Berlin, Halt ein! Dein Tanzer ist der Tod (Berlin, stop! You are dancing with Death), from a song by the German Dadaist Walter Mehring, which becomes Jerusalem, Halt ein! Dein Tanzer ist der Tod.
"Shot in video, the two works are a poetic collage of sounds and images, a concatenation of quotes, metaphors and symbols." (Ariel Schweitzer)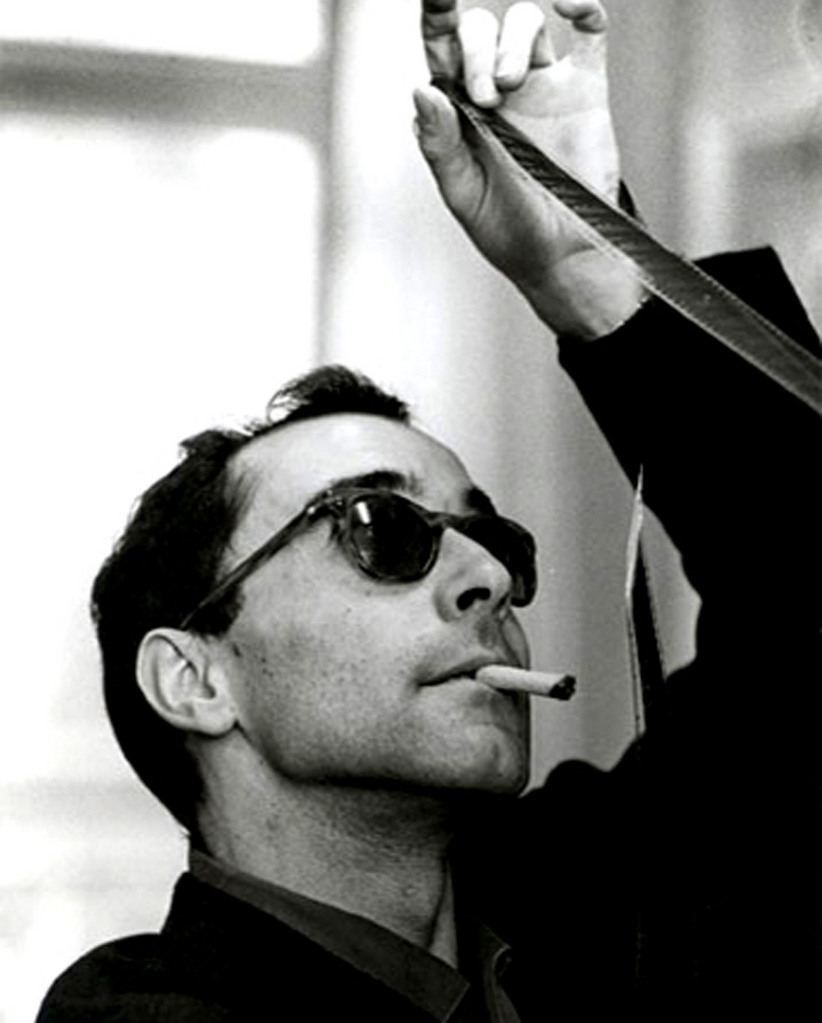 Jean-Luc Godard
Jean-Luc Godard (Paris, 1930) is one of the absolute protagonists of the Nouvelle Vague, first as a militant film critic for "Cahiers du cinéma" during the 1950s, then as a director, right from his debut with Breathless (1960). Over the course of a career which has lasted almost fifty years, Godard has established himself as one of the most radical and rigorous innovators of the film language.
FILMOGRAFIA
À bout de souffle (Fino all'ultimo respiro, 1960), Une Femme est une femme (La donna è donna, 1961), Vivre sa vie (Questa è la mia vita, 1962), Le Mépris (Il disprezzo, 1963), Une Femme mariée (Una donna sposata, 1964), Pierrot le fou (Il bandito delle undici, 1965), Made in USA (Una storia americana, 1966), La Chinoise (La cinese, 1967), Lotte in Italia (1971), Tout va bien (Crepa padrone, tutto va bene, 1972), Numéro deux (1975), Ici et ailleurs (1976), Comment ça va? (1978), Sauve qui peut (la vie) (Si salvi chi può-La vita, 1980), Passion (id., 1982), Prénom Carmen (id., 1983), Je vous salue, Marie (id., 1985), Soigne ta droite (Cura la tua destra, 1987), Histoire(s) du cinéma (TV, 1989-1998), Nouvelle vague (id., 1990), Hélas pour moi (1993), For Ever Mozart (1996), Éloge de l'amour (2001), Notre Musique (2004), Prières pour Refusniks I-II (2004) , Film socialisme (2010), Adieu au langage (Addio al linguaggio, 2014).