GOSPOD POSTOI, IMETO I' E PETRUNIJA / DIO È DONNA E SI CHIAMA PETRUNYA
GOD EXISTS, HER NAME IS PETRUNYA
by Teona Strugar Mitevska



Country:
Macedonia, Belgium, Slovene, Croatia, France

Every January, a local Orthodox priest throws a wooden cross into the river and hundreds of men dive in after it. Good fortune and prosperity are guaranteed to the man who retrieves the cross. This time, Petrunya, a single unemployed woman and a historian who lives with her parents, dives into the water on a whim and manages to grab the cross before the others. Her competitors are furious: how dare a woman take part in their ritual? As all hell breaks loose, Petrunya stands tall, challenging the church, judiciary and media. She won her cross and will not give it up.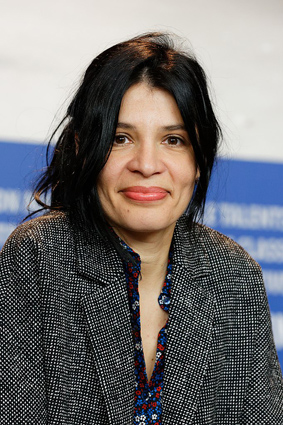 Teona Strugar Mitevska
Teona Strugar Mitevska (Skopje, North Macedonia, 1974) was born into an artistic family. She started as a child actor, trained as a painter and graphic designer and later studied at the Tisch School of Arts. She made her first short, Veta, in 2001; her first feature was How I Killed a Saint (2004), made under the auspices of the Sisters and Brother Mitevski, a company she established with her brother and her sister. Her next feature film, I Am from Titov Veles (2007), received a Special Jury Prize at the Sarajevo Film Festival. Her film The Woman Who Brushed Off Her Tears premiered at the 2012 Berlin Film Festival and in 2013 she directed the film Teresa and I, a documentary about Mother Teresa. Her feature film When the Day Had No Name (2017), premiered in the Panorama Special section of the 2017 Berlin IFF.
FILMOGRAFIA
filmografia/filmographyVeta (cm, 2002), Kako ubiv svetec (How I Killed a Saint, 2004), Jas sum od Titov Veles (I am From Titov Veles, 2007), The Woman Who Brushed Off Her Tears (2012), Teresa and I (doc., 2015), When the Day Had No Name (2017), Gospod postoi, imeto I' e Petrunija (Dio è donna e si chiama Petrunya, 2019).
Declaration
film director
"Throwing a cross into the water is a typical tradition in Orthodox countries and every year it takes place on January 19. In 2014, at Štip, in Macedonia, a woman retrieved the cross and her gesture was considered an outrage, since women are not allowed to participate in the ritual. This really happened and it gave us the inspiration for this movie. Many people ask me if it's a feminist movie, but every movie with a female character who acts outside the box is a feminist movie."

teona strugar mitevska
GOSPOD POSTOI, IMETO I' E PETRUNIJA
Macedonia-Francia-Belgio-Slovenia-Croazia/Macedonia-France-Belgium-Slovenia-Croatia, 2019, 100', col.

dio è donna e si chiama petrunya

regia/director
Teona Strugar Mitevska
sceneggiatura/screenplay
Elma Tataragic, Teona Strugar Mitevska
fotografia/cinematography
Virginie Saint Martin
montaggio/film editing
Marie-Hélène Dozo
scenografia/production design
Vuc Mitevski
costumi/costume design
Monika Lorber
musica/music
Olivier Samouillan
suono/sound
Hrvoje Petek, Ingrid Simon
interpreti e personaggi/cast and characters
Zorica Nusheva (Petrunya), Labina Mitevska (la giornalista/journalist), Simeon Moni Damevski (l'ispettore capo/chief inspector), Suad Begovski (il prete/priest), Stefan Vujisic (il giovane poliziotto/young officer), Violeta Shapkovska (la madre/mother), Xhevdet Jashari (il cameraman/cameraman)
produttore/producer
Labina Mitevska
produzione/production
Sisters and Brother Mitevski

**
contatti/contacts
Teodora Film
Stefano Finesi
stefano.finesi@teodorafilm.com
www.teodorafilm.com