C'È UN SOFFIO DI VITA SOLTANTO
C'È UN SOFFIO DI VITA SOLTANTO
by Matteo Botrugno, Daniele Coluccini




Lucy is a 95-year-old. In her home, photographs that have yellowed over the years tell the story of the adolescence of a boy who used to be called Luciano and was about to experience the worst period of his life. Lucy is Italy's oldest transsexual woman, one of the few who survived the concentration camp at Dachau. Lucy's life is also the story of the 20th century. The events of a stormy life become the metaphor for people who don't give up and treasure one of the greatest gifts of history: memory, the one, essential departure point.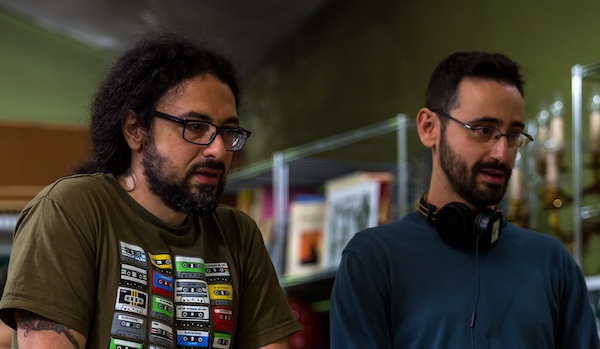 Matteo Botrugno, Daniele Coluccini
(Italy) between 2007 and 2008 directed a trilogy of short films composed of Chrysalis (2007), Europa (2007), and Sisifo (2008), participating at over forty international festivals. They debuted in feature films in 2010 with Et in terra pax, presented at the Venice Film Festival's Giornate degli Autori and selected at over seventy international festivals, including Tokyo and Moscow; it also received a special mention at the Silver Ribbons. In 2017, they were back at the Giornate degli Autori with Il contagio, based on the same-titled novel by Walter Siti, and which received two nominations for a Silver Ribbon. Their screenplays Rito di primavera (2011) and Quanto t'amo (2015) were selected by various labs for cinematographic development, including the New Cinema Network, the Network of Asian Fantastic Films, and Sundance Mediterranean Screenwriters.
FILMOGRAFIA
Chrysalis (cm, 2007), Europa (cm, 2007), Sisifo (cm, 2008), Et in terra pax (2011), Il contagio (2017), C'è un soffio di vita soltanto (doc, 2021).
Declaration
film director
"For one year, we immersed ourselves in Lucy's life, made of memories, encounters, and moments of solitude. We often reflected on how to address such delicate and precious material, and we came to the conclusion that the directing had to be put at the service of the story and, above all, of Lucy. We stayed by her side to make sure that the spectators, too, could live this experience the same way we did. […] C'è un soffio di vita soltanto is the story of an identity that resists and survives, despite everything, in a 21st century in which the meaning of memory seems to wane before the slow gait of the ghosts of the past."
DIRECTORS, MUSIC: Matteo Botrugno, Daniele Coluccini. CINEMATOGRAPHY: Matteo Botrugno, Daniele Coluccini, Luca Matteucci. FILM EDITING: Mario Marrone. SOUND: Dario Calvari. CAST: Lucy Salani, Porpora Marcasciano, Simone Cangelosi, Ambra Guarnieri, Louise Lisette Ngo Nyoung, Said Halssoussi, Maria Pelizzari. PRODUCERS: Matteo Botrugno, Daniele Coluccini, Simone Isola, Giuseppe Lepore, Flavia Oertwig. PRODUCTION: Blue Mirror, Bielle Re. COPRODUCTION: Tama Filmproduktion, Kimerafilm, Rai Cinema, Sky.
CONTACT: KimeraFilm - Simone Isola simoneisola@kimerafilm.com