Takashi and Yuriko have been married for three years and are leading a quiet life. Yuriko works at home as a typist and Takashi is so preoccupied with his work as a teacher that he does not notice the strange way his wife is starting to act. In fact, his wife often goes out of the house suddenly, interrupting her house chores. When her husband asks her what it is all about, she answers with senseless words. She says she is on patrol and talks about an organization that wants to split them from each other. One morning Takashi promises her to go out scouting in place of her. Instead, he goes out to a phone booth to contact a psychiatric center. Without warning, he sees Yuriko walking alone and calls out to her, but she gets into a parked car and drives off. He chases her in vain, and then goes back home. He hears the telephone ring. It is the police, who tell him that his wife was arrested. At this point, Takashi makes up his mind to bring his wife to a psychiatric hospital. Yuriko goes through the therapy she needs and comes back home. The following morning she goes out on patrol again. Takashi reaches Yuriko on a little hill in a public park, and while the two of them listen to the sound of an invisible sea, a glimmer of happiness appears on their faces.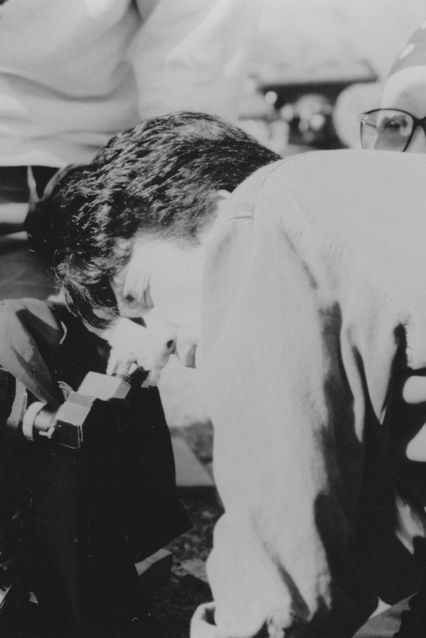 Shinozaki Makoto
Shinozaki Makoto (Tokyo, 1963) is a university graduate in psychology. He worked as a film projectionist in a movie theater. At the same time he wrote film criticism for specialized and non-specialized journals. In 1995 he debuted as a director with Okaeri, which met with extraordinary international success and won an important award at the Berlin film festival. In 1999 he directed a documentary on Kitano Takeshi.
FILMOGRAFIA
Okaeri (1995), Jam Session: Official Bootleg of Kikujiro (doc, 1999), Wasurerarenu-hitobito (2000).
Director: Shinozaki Makoto.
Screenplay: Shinozaki Makoto, Yamamura Ryo.
Director of photography: Furuya Osamu.
Editor: Tsutsui Takefumi.
Sound: Kuribayashi Toyohiko.
Cast and characters: Terajima Susumu (Takashi), Uemura Miho (Yuriko), Komatsu Shoichi (Sakuma).
Producer: Tsutsui Takefumi, Matsuda Hiroko.
Produzione e vendita all'estero: Bitters End Inc., 306 Shibuya Sunny Hill, 14-5 Sakuragaoka-cho, Shibuya-ku, Tokyo 150, Japan, tel. +81-3-34620345, fax +81-3-34620621.