There are a woman's footsteps quick, aggressive, and reassured by the familiarity of her own habits. There is a goal and a deadline that is always held in front of her. This is the pace of the city. Yet the footsteps are really weak, to such an extent that they trip up over dug up ground and through blind alleys. They mix up streets and directions. They start at their own echoes and back up at sounds of other things present until they stop.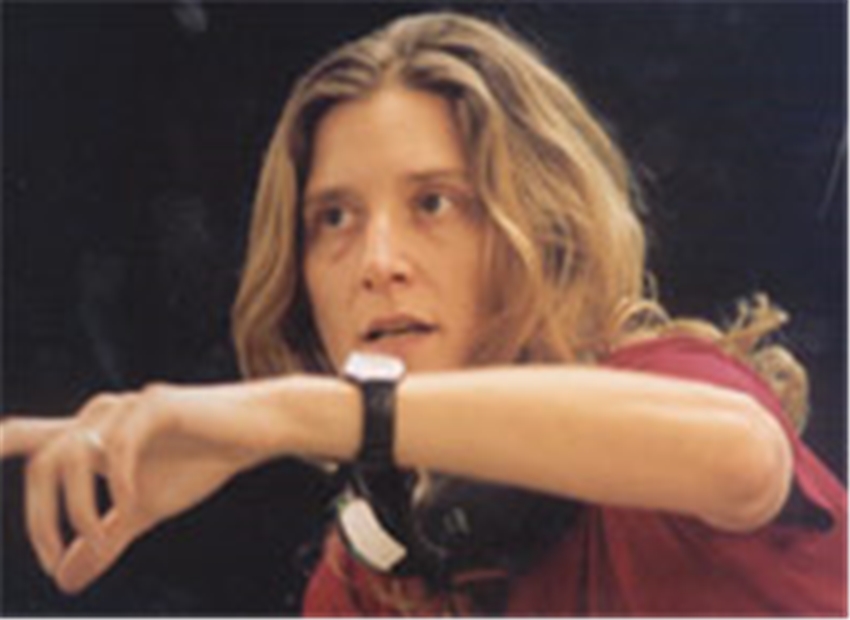 Monica Stambrini
biography Monica Stambrini was born in 1970 in Mountain View, California. She studied in Milan, where she received a diploma in cinematographic directing from CFP. She has worked in various capacities for many Italian directors and shot the making of the film L'assedio (1998) by Bernardo Bertolucci. She directed numerous short movies between 1991 and 1998, both on film and in video, and has participated at many Italian and international festivals. Between 1999 and 2000 she made six documentaries for RaiSatArte. Gas is her first full-length fiction film.
FILMOGRAFIA
Rinvenimenti (cm, 1991), Riproduzioni (cm, 1992), Epitaffio (mm, 1993), Ambliopia-Punti di vista (cm, 1993), Vorrei urlare! (cm, doc., 1994), Animali domestici (cm, 1995), Monique publique (cm, 1997), Sshhh… (cm, 1998), Cent'anni di solitudine (videoclip, 1998), Raccontoduepunti (cm, 1998), Punti di vista - Steve della Casa (cm, doc., tv, 1999), 10minuti con George Segal (cm, doc., tv, 1999), Out of the House - Gerard Richter (cm, doc., tv, 1999), Made in Milan - Conversazione con Michele De Lucchi (cm, doc., tv, 2000), Conversazione con Vico Magistretti (cm, doc., tv, 2000), Conversazione con Marco Zanuso (cm, doc., tv, 2000), Benzina (2001).
Director and screenplay: Monica Stambrini.
Director of photography: Luigi Nino, Marco Cordon.
Art director: Donatella Cianchetti.
Editor: Silvio Bot.
Sound: Francesco Gioia.
Music: Heiner Goebbels.
Cast: Carla Chiarelli.
Production company: Graffi Produzioni Cinematografiche, via Cicco Simonetta 17, 20135 Milano, tel. +390258106204, fax +390258106204.
Italian distribution: Graffi Distribuzione, via Cicco Simonetta 17, 20135 Milano, tel. +3902-58106204, fax +390258106204.