Just as Core (=pupil) is about to grab Narcissus, she looks at Hades and sees her own image reflected in his eyes.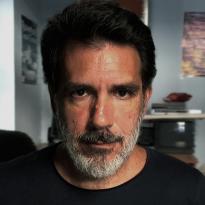 Carolos Zonars
Carolos Zonars (Athens, 1956), an Italian citizen, graduated from Athens University in Political Science in 1980. In 1982 he received a diploma from the Stavrakos Film School. From 1984 to 1986 he studied film at New York University.
FILMOGRAFIA
Endweek (1982), Jessica Morgan (1982), The tragedy of Hippolytus (1984), Ciò che luccica è oro (1991), Oreste a Tor Bella Monica (1994), Ade e core (1995), Il diario di Charlie (1995), Pietà perfetta (1997).
Director and screenplay: Carolos Zonars.
Director of photography: Luigi Andrei.
Art director: Carolina Olcese.
Editor: Roberto Missiroli.
Sound: Bruno Pupparo.
Cast: Daniela Tortoricci, Loretto Monteleone.
Production company: Carolos Zonars, via Amelia 5, 00181 Roma, tel. +39067857429.