It is the twenty first of March, the beginning of the new year in Iran. A mother and her little seven-year-old daughter, Razieh, are walking along a crowded street as the radio announces that there is one hour and twenty five minutes until the beginning of the holiday. Razieh sees two goldfish in a store window, but her mother refuses to buy her one. Later, at home, she manages to convince her mother with her brother's help. She returns to the store, but notices that she has lost the money that her mother gave her. She finds the bill again, but it has slipped into a place where she can't get at it. She thus begins a breathless race against the clock, timed by the radio voice that counts down the minutes left until the beginning of the new year. Razieh asks for help from a tailor from the store next door and a soldier on his way back to his barracks, but these adults are very busy and do not want to help her. The only one to give her a hand is a young boy, who goes around the streets selling balloons.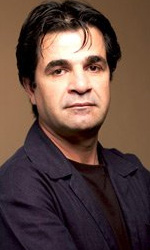 Jafar Panahi
Jafar Panahi (1960) was enthused by the films of Abbas Kiarostami ever since his childhood. He attended Teheran film school and then directed various short- and middle-length films for Iranian television. He worked as assistant director for Kiarostami. With his help, he made The White Balloon, which won the Caméra d'or award at the Cannes Film Festival in 1995.
FILMOGRAFIA
Yarali bashlaar (The Wounded Heads, cm, doc., 1988), Negah-e domov (The Second Sight, cm, doc., 1989), Kish (mm, doc., 1991), Akharin emtehan (The Last Chance, cm, 1992), Doust (The Friend, cm, 1995), Badkonak-e sefid (Il palloncino bianco, 1995), Ayneh (The Mirror, 1997), Ardekoulv (cm, doc., 1997).
Regia, scenografia e montaggio: Jafar Panahi.
Screenplay: Abbas Kiarostami, da un'idea originale di Jafar Panahi e Parviz Shahbazi.
Director of photography: Farzad Jodat
Sound: Mehdi Dejbodi.
Cast and characters: Aida Mohammadkhani (Razieh), Mohsen Kafili (Ali), Fereshteh Sadr Orafai (madre di Razieh), Mohammad Shahani (il soldato).
Director of Production: Kurosh Mazkouri.
Production company: IRIB Channel Two, Alvand Street, Channel Two Building, 11358 Tehran, Iran, tel. +98-21-2263003, fax +98-21-2262575.
Foreign sales agent: Farabi Cinema Foundation, 55 Sie-Tir Ave., 11358 Tehran, Iran, tel. +98-21-671010, fax +98-21-678155.