FERNANDA PIVANO, C'ERA UNA VOLTA L'AMERICA
FERNANDA PIVANO - ONCE UPON A TIME THERE WAS AMERICA

Fernanda Pivano talks about her American friends - the poets, musicians, writers, and artists who have changed the ways of living and thinking of several generations from the post-war era until now. The authors that Pivano has translated along with their revolutionary dreams Of a free, non-violent, and warless society permeate the words of the interview, the stock footage, and the old photographs of Pivano's personal album. Corriere della Sera correspondent. Maurizio Chierici, music critic Riccardo Bertoncelli, and publisher Carlo Feltrinelli specify Pivano's importance to Italian social and cultural life. The film was produced by "Medialogo" (the audiovisual service of Milan Province) to be shown to students in upper middle schools so that they could get to know the history of Fernanda Pivano and her world.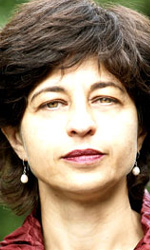 Marina Spada
Marina Spada (Milan, 1957) received a degree from the School of the Little Theater of Milan and a university degree in Music History. She teaches Film Management at School of Cinema in Milan. She shoots high-definition documentaries for NHK, the Japanese State television network, and new reports for RAI. Her short, L'astice, won second prize in the Italy Space competition of the Turin Film Festival (1996) as well as other important national and international citations.
FILMOGRAFIA
Anna dai capelli roc (1982), Un giorno dopo l'altro (1989), Le radici della libertà (1991), Amerò solo un Dio che danza (1993), Siamo tutti innamorati (1994), Maratona di New York (1994), Pietro Lingeri, architetto a Milano (1994), Fernanda Pivano, c'era una volta l'America (1995), L'astice (1996), Arnaldo Pomodoro, racconto dell'artista (1997), Dove si guarda c'è quello che siamo (1998), Francesco Leonetti, scrittore a sette code (1998).
Director: Marina Spada.
Director of photography: Renato Minotti.
Editor: Dario Chiaravalli.
Sound: Elio Citelli.
Music: Bob Dylan.
Production company: Medialogo - Settore Audiovisivo della Provincia di Milano, via Guicciardini 6, 20100 Milano, tel. +39-02-77401.