Charlie is a Greek, a Greek on a voyage, a Greek who is delving into himself and therefore he is someone who feels the right and dares to sing in public. I was born to suffer and labor.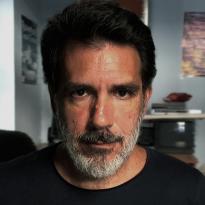 Carolos Zonars
Carolos Zonars (Athens, 1956), an Italian citizen, graduated from Athens University in Political Science in 1980. In 1982 he received a diploma from the Stavrakos Film School. From 1984 to 1986 he studied film at New York University.
FILMOGRAFIA
Endweek (1982), Jessica Morgan (1982), The tragedy of Hippolytus (1984), Ciò che luccica è oro (1991), Oreste a Tor Bella Monica (1994), Ade e core (1995), Il diario di Charlie (1995), Pietà perfetta (1997).
Regia, sceneggiatura e fotografia: Carolos Zonars.
Editor: lacopo Quadri.
Sound: Renato Ciunfrini.
Production company: Carolos Zonars, viale Amelia 5, 00181 Roma, tel. +39067857429.