O DESEJADO/LES MONTAGNES DE LA LUNE
THE DESIRED/THE MOUNTAINS OF THE MOON
Country:
Portugal, France

"Courted, loved and admired even by his worst enemies, João is ageless. João, a left-winger, guides a coalition party to power, and a major political crisis blows up. Imperturbable in the midst of the storm that is shaking the government, João continues his career of seduction and provokes jealousy. He saves the most delicate situations with a smile: he is precariously balanced between comedy and tragedy. He is a Portuguese Don Juan, with a gift, and a taste, for intrigue, for the shady machinations of power and amorous adventure. Antonia has decided not to spare herself, while João, certain of his own power, has never fallen into despair. But the swift passage of this woman through his life forces him to face reality. This is his first setback, the first false step for this tightrope walker. Power games, stories of passion, desire and betrayal. In Sintra, as evening falls, the pale light of the moon shines on the sixteenth-century palaces where these intrigues take place. This modern melodrama tells the story of a man who, at the peak of his career, finds that lie is both conqueror and conquered, despairing and satisfied." (From the catalogue of the Mostra Internazionale del Cinema, Venice, 1987)

"During the ten years I spent in Japan, I realized that, little by little, the faces of some of my Portuguese friends were being superimposed on the characters in Prince Genji's book: their loves, their agonies, their suicides and their real political ambitions had a great deal in common with the fantastic story written one thousand years ago." (Paulo Rocha, from the catalogue of the Mostra Internazionale del Cinema, Venice, 1987)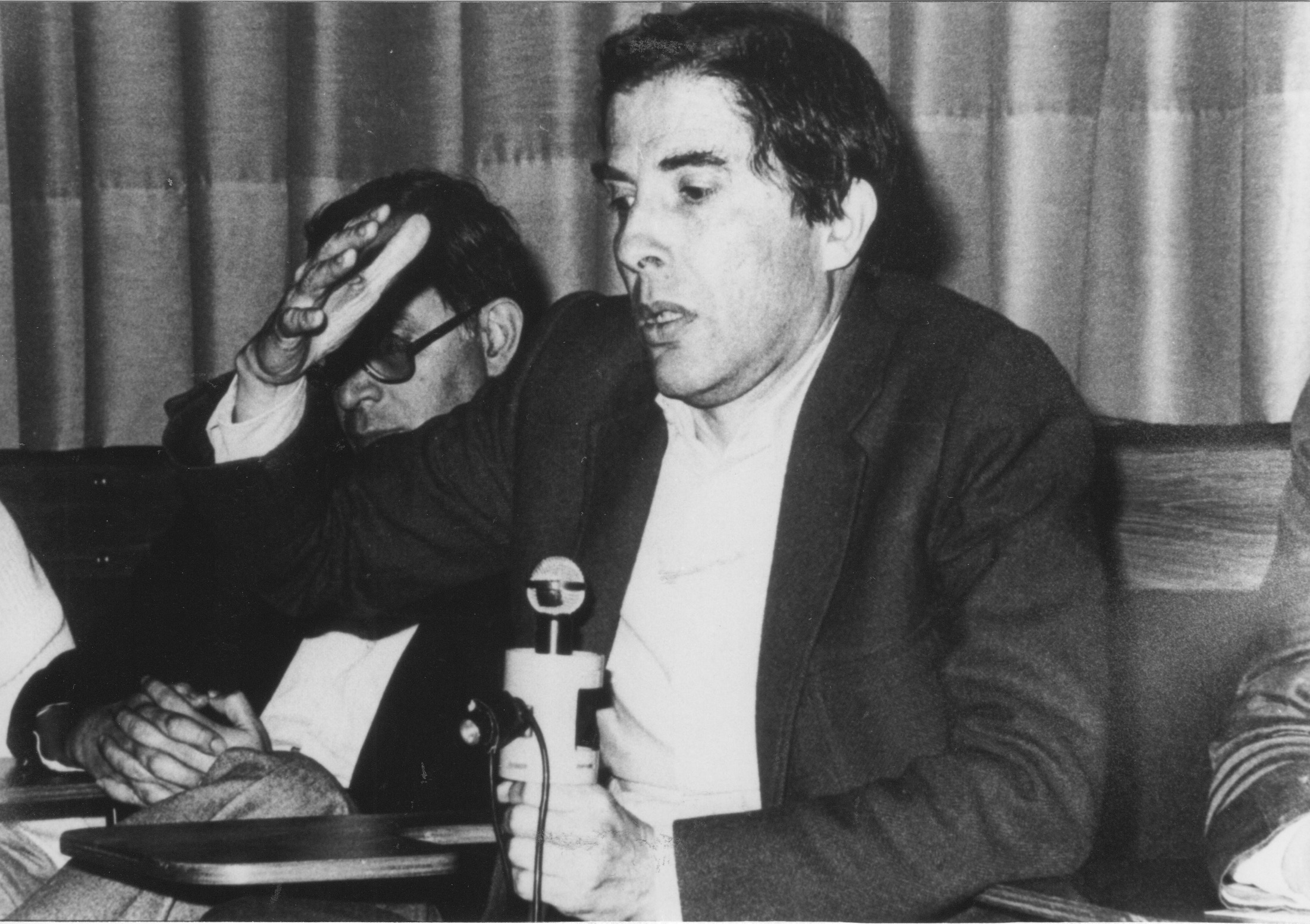 Paulo Rocha
Paulo Rocha (Oporto, 1935) studied law in Lisbon and frequented film clubs. From 1959 to 1961 he lived in Paris, where he was an assistant to Jean Renoir and attended the IDHEC. His first film, Os Verdes Anos (1963) marked the birth of the new Portuguese cinema. Fascinated by the Far East and Japanese cinema, he was cultural attaché of the Portuguese Embassy in Tokyo for many years. During this time, he also completed the key film of his opus, A Ilha dos Amores (1980). Despite difficulties tied to production, he continued his work in Portugal, and became one of the mos
FILMOGRAFIA
Os Verdes Anos (1963), Mudar de Vida (1965), Sever de Vouga (cm, 1970), Pousada das Chagas (1971), A ilha dos Amores (1982), A ilha de Moraes (1984), O Desejado / Les Montagnes de la Lune (1987), Máscara de Aço Contra Abismo Azul (1988), Oliveira, o Arquítecto (1993), O Senhor Portugal em Tokushima (1993), Shoei Imamura, le Libre Penseur (1995), O Rio do Ouro (1998), Camões (1999), As Sereias (cm, 2001), A Raiz do Coração (2000), Vanitas (2004).
Director: Paulo Rocha.
Screenplay: Paulo Rocha, da "Genji Monogatari" di Shikobu Murasaki.
Adaptation and dialogues: Jorge Silva Melo, Manuel de Lucena, Antoine Lacomblez e con la partecipazione di Ivane Daoudi.
Director of photography: Kozo Okazaki.
Operatori: Ryouichi Sakai, Osamu Motoyoshi.
Music: Philippe Hersant.
Art director: Jasmin.
Costume designer: Coco Herry.
Editor: Christiane Lack.
Sound: Joaquim Pinto.
Cast and characters: Luís Miguel Cintra (João), Manuela de Freitas (Isabel), Jacques Bonnaffé (Tiago), Caroline Chaniolleau (Antonia), Yves Alfonso (Laurentino), Armando Cortes (Amadeu), Luis Santos (Manuel), Duarte de Almelda (Salvador), Isabel de Castro (governante), Isabel Ruth (Virginia), Mario Jacques (Adriano), Mariana Rey Monteiro (nonna di Tiago), Paiva Raposo (nonna di Tiago), Graziella Galvani (funzionaria italiana), Clara Joana (cicerone nel Palazzo di Sintra), Laurinda Alves (reporter della televisione), Zita Duarte, Inês de Medeiros, Alberto Inacio, Mariana Palha.
Co-production: Patrick Sandrin per Suma Filmes (Lisbona), Arion Productions (Parigi), La Sept (Parigi).
Direttori di produzione: José Bogalheiro, Marie-Rose Venuti.
Prima proiezione pubblica: Festival di Venezia, 1987.