After Odysseus arrived in Ithaca and slaughtered the suitors, and he immediately set off again. This happened in the way Tiresias had said wandering "throughout many cities of the morals, holding his easytohold oar, until he comes to peoples who do not know the sea, do not eat foods salted with salt, and do not have redcheeked ships, nor do they have easytohold oars, which are the ships' wings". He still wanders without rest today... until an atomic explosion forever deprives him of his return and, paradoxically, of his death.
Marco Borroni
Marco Borroni (Castellanza, Varese, 1959) is a film critic. He contributes to the film review, "Cineforum" and founded "Soft landing" along with Paolo Castelli.
FILMOGRAFIA
Riga Brothers (1993), Odisseo (1995).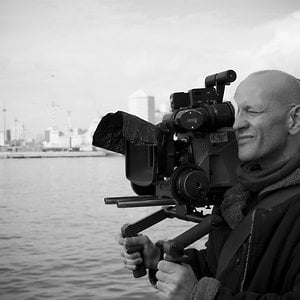 Giorgio Bonecchi Borgazzi
Giorgio Bonecchi Borgazzi (Busto Arsizio, Varese; 1968) earned a diploma as cameraperson from the CFP in Milan in 1990. Between 1989 and 1991 he attended the Ipotesi Cinema School directed by Ermanno Olmi. In 1993 he founded a small studio, Killer Elite Film. His short films have participated in numerous festivals, including the 1995-99 Torino Film Festivals. His Elvis Dead at 58 was presented at Robert Redford's Sundance Film Festival in 1998.
FILMOGRAFIA
I (delitti esemplari) (cm, 1993), Back to Alibek (doc., 1993), Riga Brothers (doc., 1993), Streetman (cm, 1995), Odisseo (cm, 1995), Titti e Silvestro (cm, 1996), Elvis Dead at 58 (cm, 1997), Zazen (cm, 1998), Il giorno del ritorno (To nomiston emar) (cm, 1999).
Director: Giorgio Borgazzi, Marco Borroni.
Screenplay: Giorgio Borgazzi, Marco Borroni, Silvio Raffo.
Director of photography: Giorgio Borgazzi.
Editor: Giorgio Borgazzi, Cristina Donghi.
Sound: Giorgio Borgazzi, Leo De Colle.
Music: Penguin Cafe Orchestra.
Cast: Vittorio Solbiati.
Voice: Leo De Colle.
Production company: Giorgio Borgazzi Killer Elite Film, via Manzoni 3, 21013 Gallarate (VA), tel. +390331795324, fax +390331795855.