Two survivors of a hypothetical nuclear conflict find that they have to argue over the picture of a nude woman on a poster the last symbol of a sexuality that has disappeared by now. After a long chase, one of them kills the other in order to get the photo without noticing that, several yards away, there are enough magazines with pictures of nude women on them to satisfy, the sexual instincts of both of them.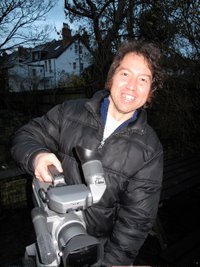 Marco Massaccesi
Marco Massaccesi (Roma, 1968) began to make videos in 1990. Some of these have appeared in various film festivals, such as Roma, Pisa, Napoli, Fano, San Paolo, and Torino.
FILMOGRAFIA
Lamento silenzioso (1991), Il mio fiore (1991), Un viso stampato sul vetro (1992), Vivere e morire (1994), Il pacco (1994), L'uomo di scorta (1994), Play boy postatomico (1995).
Director and screenplay: Marco Massaccesi.
Director of photography: Roberto Pierbattisti.
Art director: Silvia Sacco.
Editor: Alessio Doglione.
Sound: Giovanni Liberati.
Cast: Michele De Virgilio, Fabrizio Stalbano.
Production company: Marco Massaccesi, via Pietro Marchisio 129, 00173 Roma, tel. +3967219459.