Samuel Fuller, independent film maker
Samuel Fuller, independent film maker

"6 July 1965. Fuller is in Paris, busy with preparations for Les Fleurs du mal starting from a screenplay by Noël Burch. He agrees to receive us in his apartment in Place Félix Faure. I've asked Moullet to do the actual interview. With Fuller's agreement, this is to be the first working day of a filming schedule which will follow the preparation and then the making of Les Fleurs du mal. Nevertheless, instinctively on this first day, we go through practically Fuller's whole career, his ideas and his tastes. The apartment is tiny. We choose two shots: in the first, Fuller is sitting at his 'Royal' typewriter; in the second, he's standing on the balcony, with his back to the Eiffel Tower. January 1967. Eighteen months later. Fuller has been back in Hollywood for more than a year. The film is at a standstill, and so is our plan. I've brought Noël Burch and we show the rushes, those two shots of Fuller repeated ad infinitum. Strangely enough, this simplicity and this monotony work within the framework of a certain idea of montage which is beginning to take shape... Fuller is going through a very full, hard period, perpetually in action, not just living, but making his life through his decisions: the same qualities you find in his cinema, drawn tight as a bowstring towards a ceaseless concern with effectiveness. Analysis of the rushes shows that in the interminable dead moments that punctuate every interview, there are real intervals of nothingness between two ill-joined universes, intervals that Fuller obsessively tries to eliminate through his use of the plan-séquence. So editing Fuller, for us, will mean going towards that obsession, adjusting a full, continuous reality (as Fuller does), but simply leaving out of it everything that in crude reality leads to a dead period... So it's not so much a matter of a 'lived' period as of a rhythm and a plasticity which are reached starting from four different elements: the synchronous images of Fuller, passages from the films, music and placards." (André S. Labarthe, "Cahiers du cinema", n° 93, September 1967)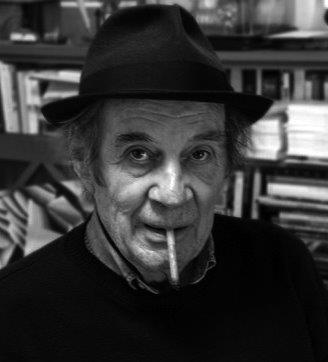 André S. Labarthe
André S. Labarthe (Oloron-Sainte-Marie, France, 1931 - Paris, France, 2018), critic of "Cahiers du cinéma," during the 1960s conceived and produced with Janine Bazin the Cinéastes de notre temps series, interrupted in 1972 and picked up again in 1988 with the title Cinéma, de notre temps. The series collected interviews of the greatest contemporary filmmakers. He also filmed documentaries on Hitchcock, Rohmer, and Scorsese.

FILMOGRAFIA

Mathieu Amalric, l'art et la matière (mm, doc., 2018, co-regioa Quentin Mével).
Director: Hubert Knapp, André S. Labarthe.
Editor: Noël Burch.
Intervistatore: Luc Moullet.
Production company: ORTF.
Serie diretta da: Janine Bazin, André S. Labarthe.
Riprese: Parigi.
Estratti da: Quaranta pistole e altri.