SORRISI ASMATICI ITALO-FRANCESI E "FLEURS DU DESTIN"
ITALO-FRENCH ASTHMATIC SMILES AND "FLEURS DU DESTIN"

The film wants to take us around the world with anomalous characters who go through the most disparate places and live every day situations with an opposite eye. It tells the story of some "wayfarers», whose origin is bounded to each of the 4 elements. Lucas-Triton is a creature of the sea and doesn't know how to use the legs, while Ines-Syrène is from a little time on the Earth and begins to habit to the upright position. Lou-Vent comes from air and in his travelling he founds a group of Syrenes become terrestrial. He is the wind, but he is also a painter of the '400 who, due to his job, goes from a place to another through the centuries, never dying and always asking. The other characters will show themselves little by little, such as Ann-Carmèn who knows how to light the fire around herself and Iaia-Sirena who takes the ugly things in life for real jewels. Each of them is a flower of destiny. Each of them know how to smile, even if asthmatically.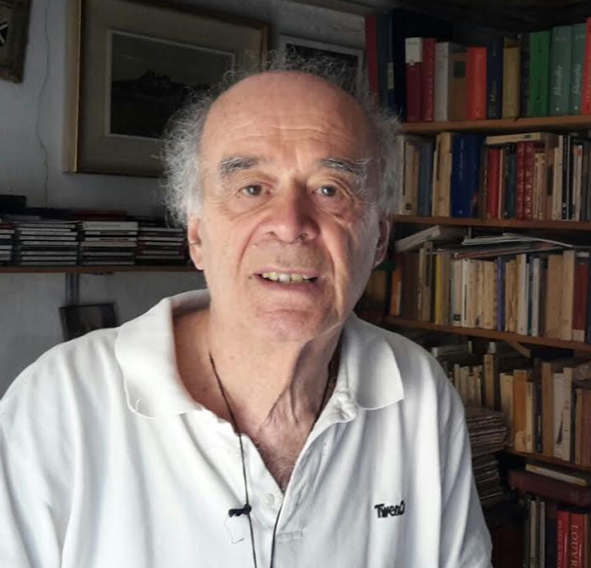 Tonino De Bernardi
(Chivasso, Turin, Italy, 1937) was an underground filmmaker from 1967 to 1983. He shot his first "official" feature in 1987: the film Elettra (based on Sophocles' tragedy), produced by RAI3, involved the participation of non-professional actors from Casalborgone, where he worked as a middle school teacher until 1992. Viaggio a Sodoma (1988) was the co-winner, with Jean-Luc Godard's film, of the World Wide Video Festival in Den Hag. He participated at the Venice Film Festival in competition with Appassionate (1999), and in Orizzonti with Médée miracle (2007), starring Isabelle Huppert. A restless filmmaker overflowing with projects, he makes at least a film a year. In 2018, together with his wife Mariella, he's also protagonist of Teresa Villaverde's O termómetro de Galileu, presented at TFF, in Onde section, just like many others films of De Bernardis'.
FILMOGRAFIA
Dei (1968-1969), Il quadrato (1971-1972), Il rapporto coniugal parentale (1973-1976), L'io e le aggregazioni (1977-1979), Donne (1980-1982), Viaggio a Sodoma (1988), Piccoli orrori (1994), Fiori del destino (1997), Appassionate (1999), Rosatigre (2000), La strada nel bosco (2001), Farelavita (2001), Lei (2002), Le cinéma dans tous ses états (ep. Terra, cm, 2002), Serva e padrona (2003), Latitudini (2003), Marlene de Sousa (2004), Passato presente (2005), Accoltellati (Accoltellatori) (2006), Médée miracle (2007), Pane/Piazza delle camelie (2008), Butterfly - L'attesa (2010), Ed è così. Circa. Più o meno (2011), Casa dolce casa (2012), Hotel de l'Univers (2013), Jour et nuit - Delle donne e degli uomini perduti (2014), Il sogno dell'India - Quarant'anni dopo (2015), Ifigenia in Aulide (2018), Resurrezione (2019), Ou n'etes vous? (mm, 2022), Universi circoscritti 2 (2022).
Director and screenplay: Tonino De Bernardi.
Director of photography: Tommaso Borgstrom.
Editor: Fiorella Giovannelli Amico.
Cast and characters: Lucas Belvaux (Triton), Lou Castel (Lou), Ines de Medeiros (Syrène), Giulietta De Bernardi, Manuela Giacomini.
Production company: Lontane Province Film, con il contributo dei Rencontres Cinématographique de Dunkerque.
Italian distribution: Lontane Province Film, Strada S. Maria 2, 10020 Casalborgone (TO), ltaly, tel. +39-011-9174495.