Riccardo, an apparently harmless man, is interviewed by a little "ghost" film crew. He is stimulated by a question that was not expressed but was implicit who did you kill?... why?... and how? He then tells the story of his friend Renato's crime in a very natural way. The confession takes place in a field at the edge of a city, where Riccardo guides the crew towards the homicide site a peculiar tower with nothing around it. During the walk, Riccardo explains his thinking and how things went... As the title makes obvious, the structure is inspired by the "nonstructure" of Max Aub's novel, Exemplary crimes.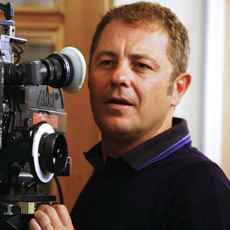 Pier Belloni
Pier Belloni (Fidenza, Parma, 1965) participated in Robert McKee's seminar, "Struttura della sceneggiatura", and Ron Richards' seminar, "Methods of Directing", both held in 1991. In 1987 he worked as assistant director for Cortini's film, A Home in Rome. In 1988 he was second assistant director for Cortini's twelve-part television series, Colletti bianchi. He worked as casting director for the film, L'oro del mondo (1991) written by Giacomo Battiato. From 1989 to 1995 he worked as assistant director and casting director in the production of about one hundred commercials. He worked as assistant director and casting director for Barzini's film, Volevamo essere gli U2 (1992) and for Giacomo Battiato's Cronaca di un amore violato (1994).
FILMOGRAFIA
Un delitto esemplare (1995).
Director: Pier Belloni.
Screenplay: Pier Belloni, Riccardo Rossi.
Director of photography: Lorenzo Adorisio.
Editor: Claudio Di Mauro.
Sound: Maurizio Argentieri.
Cast: Fabio Camilli, Riccardo Rossi, Alessandro Spigarelli, Anna Zaneva.
Production company: Lorenzo Adorisio, Pier Belloni, Riccardo Rossi, c/o Riccardo Rossi, via delle Convertite 5, 00187 Roma, tel. +39066786890.