The true story of Jane and her son Alvin, both of whom are HIV positive. When Alvin gets sick, his mother dedicates herself entirely to taking care of him and thus loses her job and all her hope. Luckily she gets support from her sister Martha, a contagiously upbeat woman who hopes to open a beauty salon. The main characters in this African story are the people who actually experienced it: Jane, Martha and Alvin Kinyanjui.
"I had 8 weeks to become more acquainted with the health situation in Kenya, find my protagonists and start shooting. After two weeks of meeting with sick people and social workers I realized it would be impossible to find a family willing to be filmed during the most delicate moment of their lives. […] Without the courage, the energy and the good humour of Jane and Martha we would never have been able to shoot such a difficult film in 6 weeks. This work has moved and entertained me; I hope it will be the same for the spectators, otherwise I won't have been worthy of my marvellous actresses." (G. Piperno)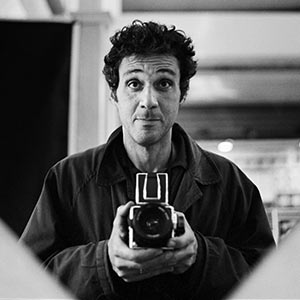 Giovanni Piperno
Giovanni Piperno (Rome, Italy, 1964) worked as a photographer and as an assistant cameraman for films and advertisements. In 1992 he began to co-produce and co-direct videos and documentaries with Laura Muscardin and Agostino Ferrente. In 1997 he began directing TV programs and documentaries. One of his last films, L'esplosione, won first prize in the Doc competition at the 2003 Torino Film Festival and was nominated for a David di Donatello as best documentary. This Is My Sister won the Avanti! prize at the 2006 Torino Film Festival and Cimap! Centoitalianimattiapechino, which was presented in Locarno, won the Libero Bizzarri award in 2009.
FILMOGRAFIA
filmografia essenziale/essential filmography
Ebrei in Sudafrica (coregia/codirector Laura Muscardin, cm, doc., 1992), Black Taxi(coregia/codirector Laura Muscardin, cm, 1993), Mosè a Bombay (coregia/codirector Laura Muscardin, cm, doc., 1994), Bananine Unipolari (cm, doc., 1997), Il mio nome è Nico Cirasola(mm, doc., 1998), Intervista a mia madre (coregia/codirector Agostino Ferrente, mm, doc., 1999), Verdi Suprême (cm, doc., 2002), L'esplosione (doc., 2003), This Is My Sister (mm, doc, 2006), Cimap! Centoitalianimattiapechino (doc., 2008), La danza delle api(coregia/codirector Giulio Cederna, mm, doc.), Il pezzo mancante (doc., 2010).