ANGRIFF AUF DIE DEMOKRATIE - EINE INTERVENTION
DEMOCRACY UNDER ATTACK - AN INTERVENTION

On December 8, 2011 at the Haus der Kulturen der Welt in Berlin, the conference "Democracy Under Attack - An Intervention" is held. Ten German intellectuals participate in a discussion of democracy in Europe during the years of the ongoing financial crisis. of The EU member states are accused of initiating anti-democratic policies to deal with an increasingly unstable economy; these measures, although presented as necessary, could potentially limit citizens' rights. Even the legitimacy of the governments themselves seems increasingly in danger, as witnessed by the creation of the so-called Troika. Ten speeches to take on one of the darkest periods in recent European history.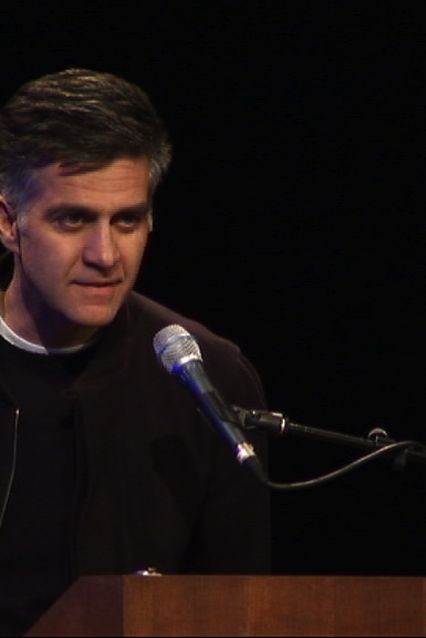 Romuald Karmakar
Romuald Karmakar (Weisbaden, Germany, 1965), over the course of his thirty-year career, has received numerous awards, such as the Coppa Volpi in Venice and the German National Film Award for his feature-length Der Totmacher (1996), and the Silver Leopard in Locarno for Manila (1999). He has also received retrospectives at important cultural institutions and festivals, including the Centre Pompidou in 2006, Cinéma du réel in 2007 and at the 2008 BAFICI. A member of the Akademie der Künste in Berlin since 2009, that same year MoMA honored him with a screening of his documentary Das Himmler Projekt (2000) and in 2013 he participated at the German pavilion at the Venice Biennale. He has recently completed an artist's residency at Harvard University's Radcliffe Institute for Advanced Study.
FILMOGRAFIA
Eine Freundschaft in Deutschland (1985), Hellman Rider (coregia/codirector Ulrich von Berg, cm, doc., 1988), Gallodrome (cm, doc., 1988), Hunde aus Samt und Stahl (doc., 1989), Warheads (doc., 1993), Inflight (doc., 1994), Der Tyran von Turin (cm, doc., 1994), Der Totmacher (1995), Das Himmler Projekt (doc., 2000), Manila (2000), 196 bpm (doc., 2003), Land der Vernichtung (doc., 2004), Die Nacht singt irhe Lieder (2004), Between the Devil and the Wide Blue Sea (doc., 2004), Hamburger Lektionen (doc., 2006), Villalobos (doc., 2009), Die Herde des Herrn (doc., 2011).
Declaration
film director
"The markets are presented to us as if they were the Holy Ghost: omnipresent, omniscient. Unfortunately the Holy Ghost is sometimes in a bad mood. And He doesn't have a telephone number either. That's why we are told: there is 'no alternative' to present policies." (Franziska Augstein)
regia, montaggio, produttore/director, film editing, producer
Romuald Karmakar
suono/sound
Rolf Bernhardt, Andreas Durchgraf, Matthias Lempert
interpreti/cast
Franziska Augstein, Friedrich von Borries, Carolin Emcke, Julia Encke, Romuald Karmakar, Nils Minkmar, Ingo Schulze, Joseph Vogl, Harald Welzer, Roger Willemsen
produzione/production
Pantera Film GmbH
coproduttore/coproducer
Harald Welzer
coproduzione/coproduction
ZDF/3sat, FUTURZWEI. Stiftung Zukunftsfähigkeit, Haus der Kulturen der Welt