DAS CABINET DES DR. CALIGARI
DAS CABINET DES DR. CALIGARI

In the fictitious German town of Holstenwall, back in 1930, a student called Franzis tells the story of Dr Caligari. The disturbing carnival hypnotist shows in his act the somnambulist Cesare to the audience. Cesare can predict the future and commits murders under his master's control. Franzis collaborates with the police to arrest the real perpetrator; he discovers that the hypnotist is actually the director of a psychiatric hospital, so Caligari is institutionalized in his own asylum. But perhaps Franzis is also insane, like all the characters in his story who live locked up in a mental ward run by a man who looks a lot like Caligari…The Cabinet of Dr Caligari is considered the manifesto of German Expressionism. The new version was digitally restored by the Bologna Film Archives workshop L'immagine ritrovata upon request of the German foundation Murnau-Stiftung.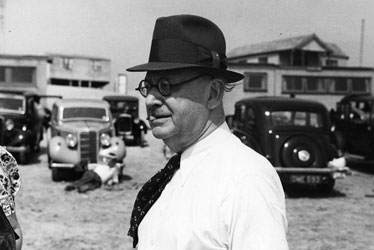 Robert Wiene
Robert Wiene (Sasku, Germany, 1881 - Paris, France, 1931) studied philosophy before starting to work in cinema in 1915. In 1919, he was called to replace Fritz Lang as the director of The Cabinet of Dr Caligari, which became a pivotal movie for its radical expressive solutions and visionary set design. Genuine (1920) and Crime and Punishment (1923) were also made along those lines. Instead, the religious-themed Crown of Thorns (1923) and the mystery The Hands of Orlac (1924) take a different direction, setting aside the exuberant set designs typical of "Caligarism," opting for a more realistic style. Wiene then dedicated himself to commercial productions before fleeing from Nazism. He died in Paris while he was shooting Ultimatum (1938), which was completely posthumously by Robert Siodmak.
FILMOGRAFIA
Genuine (1920), Die Rache einer Frau (1921), Die höllische Macht (1922), Raskolnikow (1923), Der Puppenmacher von Kiang-Ning (1923), I.N.R.I. (1923), Orlacs Hände (Le mani dell'altro, 1924), Der Rosenkavalier (Il cavaliere della rosa, 1925), Die Geliebte (1927), Die berühmte Frau (La danzatrice di Granata, 1927), Die große Abenteuerin (1928), Die Frau auf der Folter (Tu non mentirai!, 1928), Unfug der Liebe (Amore contrastato, 1928), Der Andere (1930), Panik in Chicago (1931), Polizeiakte 909 (1933), Eine Nacht in Venedig (1934).
regia/director
Robert Wiene
sceneggiatura/screenplay
Carl Mayer, Hans Janowitz
fotografia/cinematography
Willy Hameister
scenografia/production design
Hermann Warm, Walter Reimann, Walter Röhrig
costumi/costume design
Walter Reimann
musica/music
Giuseppe Becce
interpreti e personaggi/cast and characters
Werner Krauss (Dr Caligari), Conrad Veidt (Cesare), Friedrich Féher (Franzis), Lil Dagover (Jane), Hans Heinrich von Twardowski (Alan), Rudolph Klein-Rogge (il ladro/thief), Rudolf Lettinger (Dr Olfen), Elsa Wagner, Ludwig Rex, Henri Peters-Arnolds, Hans Lanser-Ludoff
produttori/producers
Erich Pommer, Rudolf Meinert
produzione/production
Decla
contatti/contacts