Cynthia, a fifty-year-old with a neat and elegant appearance, looks good for her age. Her aloof and imperious ways, as well as the age difference with the thirty-year-old Evelyn, make the relationship unbalanced. The older woman dominates the younger one, who becomes her humble servant. But Evelyn's apparent subservience is actually an erotic game that she wants to carry on at all costs, even if it means sacrificing her relationship with her lover.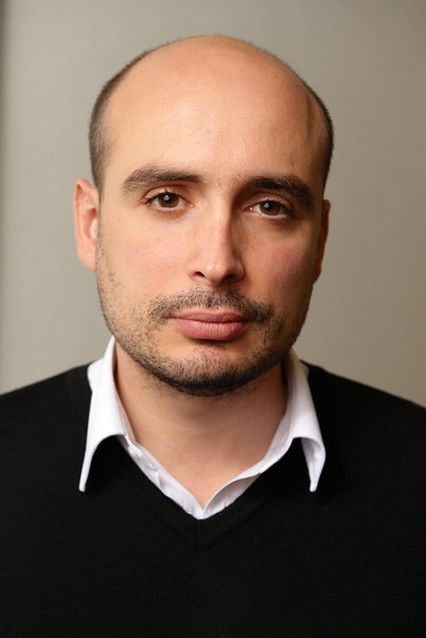 Peter Strickland
Peter Strickland (UK), after having directed short films, shot his first feature film Katalin Varga, that was funded and produced independently and win numerous awards including a Silver Bear in Berlin and the European Film Academy's Discovery of the Year award in 2009. His second feature film, Berberian Sound Studio, was distributed internationally and won several awards, including best director and best actor (Toby Jones) at the 2012 British Independent Film Awards. He also founded The Sonic Catering Band in 1996, which has released several records and performed live throughout Europe.
FILMOGRAFIA
Bubblegum (cm, 1996), A Metaphysical Education (cm, 2004), Katalin Varga (2009), Berberian Sound Studio (id., 2012), Björk: Biophilia Live (doc., 2014), The Duke of Burgundy (2014).
Declaration
film director
"I found a lot of similarities between filmmakers and masochists; the control aspect definitely. A lot of this film is about acting and directing, about the performance, the movement, these lines are said again and again. You can say the exact line the masochist wants you to say but if you get the nuance or the tone slightly wrong it just kills the fantasy completely. But that's acting for you, if something's not quite right in your eyes it's dead, it's just not working. I really wanted to be neutral, to show this world and just not judge it at all. I mean I'm making fun of the practicalities of it; I'm not making fun of the characters."
regia, sceneggiatura/director, screenplay
Peter Strickland
fotografia/cinematography
Nic Knowland
montaggio/film editing
Matyas Fekete
scenografia/production design
Pater Sparrow
costumi/costume design
Andrea Flesch
musica/music
Cat's Eyes
suono/sound
Martin Pavey
interpreti e personaggi/cast and characters
Sidse Babett Knudsen (Cynthia), Chiara D'Anna (Evelyn), Eugenia Caruso (Dr Fraxini), Zita Kraszkó (Dr Schuller), Monica Swinn (Lorna), Eszter Tompa (Dr Viridana), Kata Bartsch (Dr Lurida), Fatma Mohamed (il falegname/carpenter)
produttore/producer
Andy Starke
produzione/production
Rook Film
contatti/contacts
Protagonist Pictures
David Bartolomew