DIE KINDER DER TOTEN
by Kelly Copper, Pavol Liska




Elfriede Jelinek's novel Die Kinder der Toten served as the template for a free movie adaptation produced in the original locations near the places where the Nobel Prize Laureate grew up. A super8 holiday film from Upper Styria slowly turns into the resurrection of undead spooks. The question of the (im)possibility of adequate processing of accrued debt shoots through all those aspects that are still part of Austrian national identity today.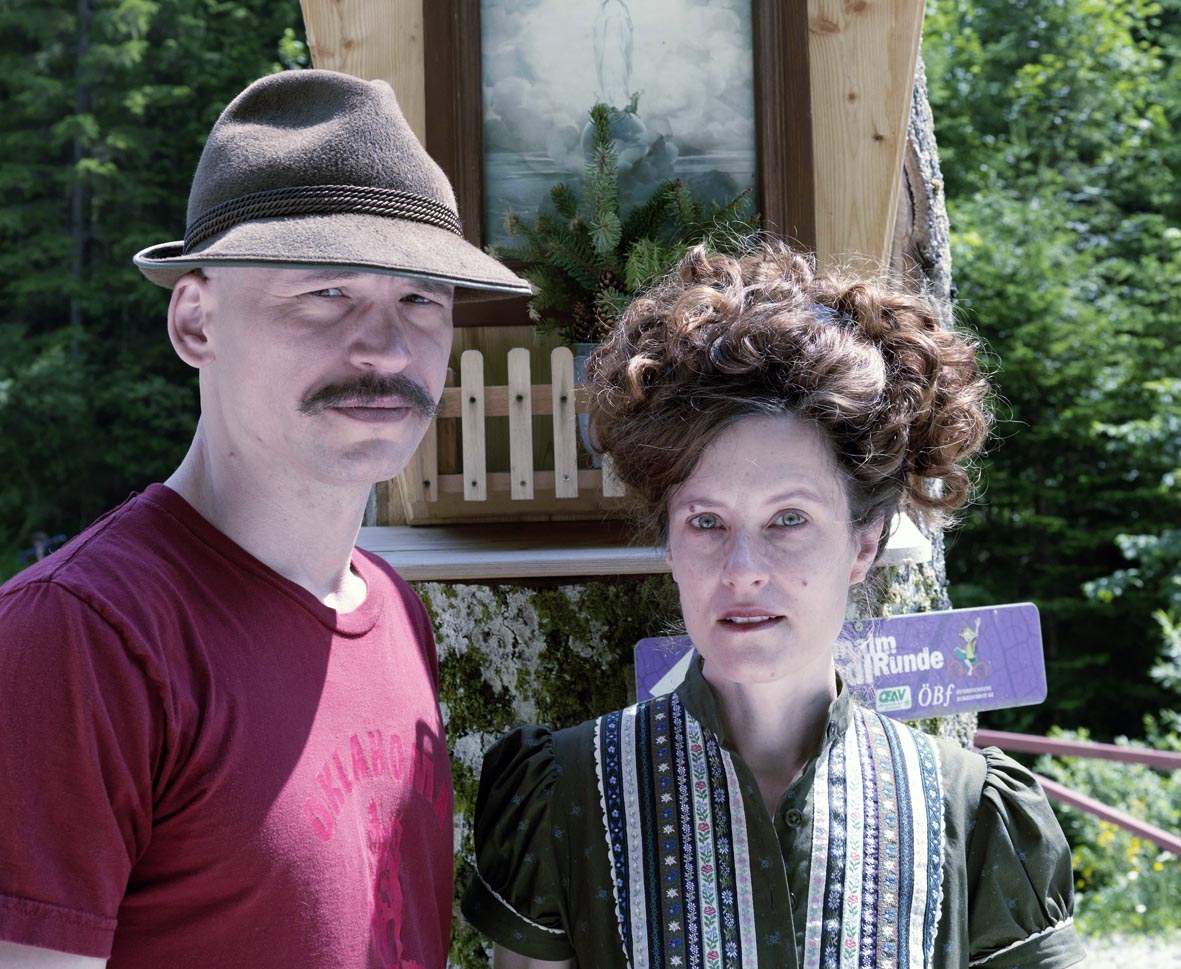 nature theater of oklahoma Kelly Copper, Pavol Liska
Kelly Copper (Gainesville, FL, USA, 1971) earned a B.A. from Dartmouth College in Hanover, New Hampshire, in 1993; in 2007, she earned an M.F.A. from Brooklyn College in New York City. Pavol Liška (Skalica, Czechoslovakia, 1973) gained a B.A. from Dartmouth College, and earned an M.F.A. from Columbia University. In 1996, together with Kelly Cooper, he founded the Nature Theater of Oklahoma in New York. Die Kinder der Toten is their first film.
FILMOGRAFIA
Die Kinder der Toten (2019)
Declaration
film director
"Austrian high literature meets amateur American B movie? Sounded right up our alley. And pretty quickly we knew that this would have to be our starting point – somewhere between horror and Heimat. In our version of Die Kinder der Toten, film is a kind of character as well as the medium through which the dead come back to life. If you look at the word for film screening or projection in French – it's 'séance' – exactly the same word used for conjuring up the dead, which is what it must have seemed like to people when they first beheld moving images made of light."
nature theater of oklahoma [Kelly Copper, Pavol Liška]
DIE KINDER DER TOTEN
Austria, 2019, 90', col.

die kinder der toten

regia, sceneggiatura, fotografia/director, screenplay, cinematography
Nature Theater of Oklahoma [Kelly Copper, Pavol Liška]
soggetto/story
dall'omonimo romanzo di/from the novel of the same title by Elfriede Jelinek
montaggio/film editing
Nature Theater of Oklahoma [Kelly Copper, Pavol Liška], Michael Palm
musica/music
Wolfgang Mitterer
suono/sound
Matz Müller
interpreti/cast
Andrea Maier, Greta Kostka, Klaus Unterrieder, Georg Beyer
produttori/producers
Claus Philipp, Georg Aschauer
produzione/production
Ulrich Seidl Filmproduktion

**
contatti/contacts
Austrian Film Commission
anne.laurent@afc.at
www.afc.at