LA NOSTALGIA DELLA CONDIZIONE SCONOSCIUTA
LA NOSTALGIA DELLA CONDIZIONE SCONOSCIUTA

Broadly based on the book The Presentation of Self in Everyday Life by Erving Goffman, the documentary explores the liminal divergence between the social and dramaturgical roles. Through Ettore, a singer-songwriter and the protagonist of the movie, the film studies our need to represent something we are lacking and cannot experience, and the impossibility of blocking this need.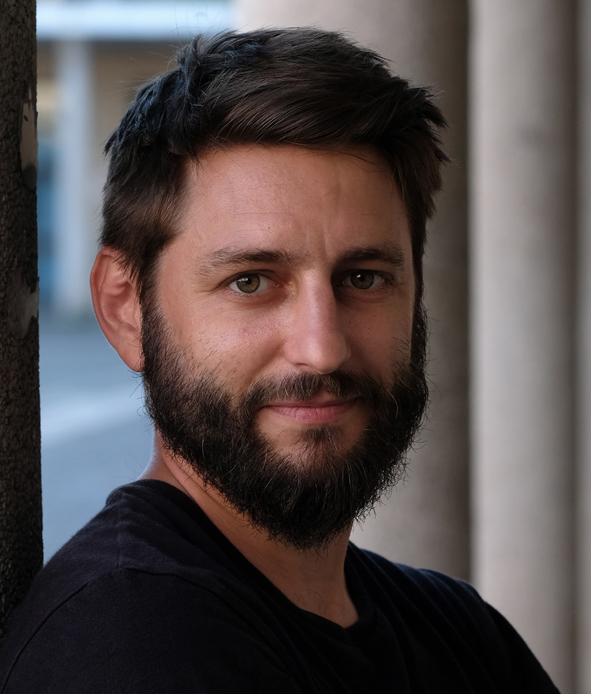 Andrea Grasselli
FILMOGRAFIA
filmografia essenziale/essential filmography
Centri di confine (doc., 2012), La partita (doc., 2013), Il vortice fuori (coregia/codirector Giorgio Affanni, doc., 2014), Qualcuno diceva: lasciateli dormire (cm, doc., 2015), Solenne Triduo dei morti (cm, doc. , 2017), Il passaggio - L'Incant o asta delle statue (cm, doc., 2019), Babel - Il giorno del giudizio (doc., 2019), La nostalgia della condizione sconosciuta (doc., 2019).


Declaration
film director
"I have known the singer-songwriter Ettore Giuradei, who was born in 1981, for years. Before beginning this movie, I read Erving Goffman's book The Presentation of Self in Everyday Life. Written in 1956, it has been defined pre-sociology and as a leitmotiv it uses the metaphor of theatre to study the importance of human and social actions. What struck me as I was reading the book was the clear and logical demonstration of the fact that our world is formed by our representation of ourselves, and vice-versa."
andrea grasselli
LA NOSTALGIA DELLA CONDIZIONE SCONOSCIUTA
Italia/Italy, 2019, 73', col.

la nostalgia della condizione sconosciuta

regia/director
Andrea Grasselli
soggetto/story
liberamente ispirato al saggio La vita quotidiana come rappresentazione/loosely based on the book The Presentation of Self in Everyday Life di/by Erving Goffman
sceneggiatura/screenplay
Andrea Grasselli, Ettore Giuradei
montaggio/film editing
Mauro Rodella
musica/music
Maurizio Rinaldi
suono/sound
Giovanni Corona
interpreti/cast
Ettore Giuradei, Renato Giuradei, Angelo Giuradei, Marco Giuradei, Alessandro Pedretti, Nicola Panteghini, Lorenzo Fantetti, Maria Novella Gennari, Davide Daffini, Giuseppe Passadori, Mario Rinaldi, Mila Portesi
produttori/producers
Chiara Budano, Gianluca Ceresoli, Graziano Chiscuzzu, Pietro Comini, Mauro Rodella, Andrea Grasselli, Giorgio Affanni
produzione/production
Cinqueesei Film, Oṃ Video
coproduzione/coproduction
Comune di Provaglio d'Iseo, Produzioni Dal Basso, Fondazione ASM

**
contatti/contacts
Cinqueesei Film
Mauro Rodella
mauro.rodella@5e6.it
www.5e6.it