Gemma is in love with a rich young man, Paolo Sartori. However, she cannot marry him as he is his illegitimate half-brother. Once the disappointment is over, she resigns himself to marry professor Franco Vagnuzzi, for whom she feels no real affection. Blackmailed by the Countess Elvira, Gemma becomes the lover of a certain Vittoni. Franco does not suspect anything. When Elvira threatens to follow the couple to Rome, where Franco is about to be transferred, Gemma is exasperated, hurled at the woman and wounds her. Thus she manages to distance the countess and reconcile with Franco, for whom she now begins to feel sincere.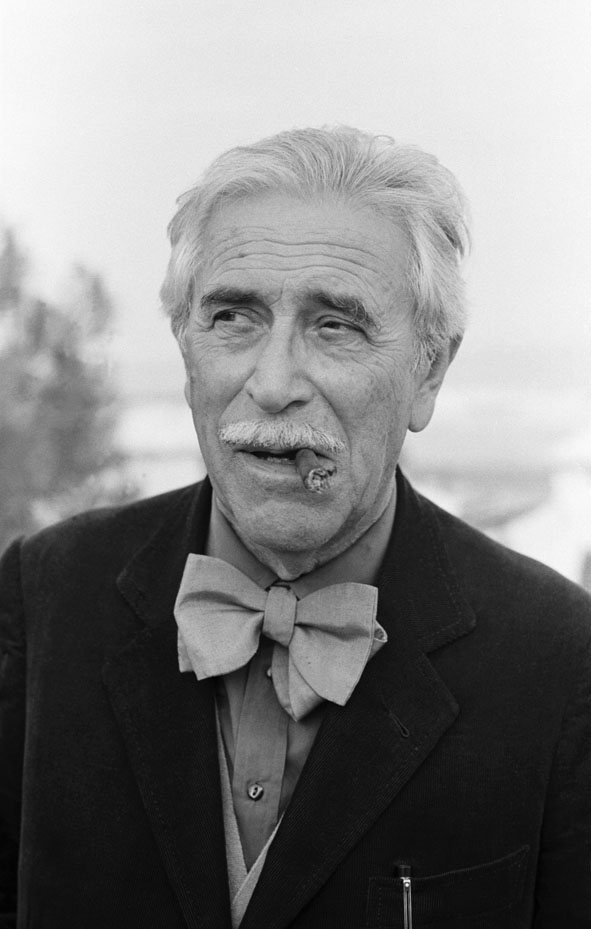 Mario Soldati
Mario Soldati (Turin, Italy, 1906 - Tellaro, La Spezia, Italy, 1999) made his debut as a storyteller in 1929 with the short story collection Salmace. After a period spent in the United States, in 1931 he returned to Italy, where he began working at the Cines-Pittaluga. He made his directorial debut in 1939 with Dora Nelson, inaugurating a style of very elegant formal invoice, influenced by literary ancestry, as testified by the Piccolo mondo antico (1941) and Malombra (1942). Curious and attentive to new languages, as well as a narrator and filmmaker, he will also be a pioneering television author, realizing, with Alla ricerca dei cibi genuini - Viaggio nella valle del Po (1957), one of the fundamental moments of our country's television.
FILMOGRAFIA
filmografia essenziale/essential filmographyDora Nelson (1939), Piccolo mondo antico (1941), Tragica notte (1942), Malombra (1942), Quartieri alti (1945), Le miserie del signor Travet (1946), Eugenia Grandet (1946), Daniele Cortis (1947), Fuga in Francia (1948), Quel bandito sono io (1950), Il sogno di Zorro (1952), Jolanda, la figlia del Corsaro Nero (1952), La provinciale (1953), La mano dello straniero (1954), La donna del fiume (1955), Policarpo, ufficiale di scrittura (1959).
Declaration
film director
"This is the first film based on a work by Moravia, and it is the first serious film I make from 1946 to today. I wrote the whole script in my own hand, with the collaboration of Giorgio Bassani, and I can say that I worked hard. I have often been criticized for doing things that are not serious, things that are not true, in which I don't believe. Now I had a good opportunity, I wanted to make this film without concessions and without compromises, and this meant a lot of discussion especially with the producers."
mario soldati
LA PROVINCIALE
Italia/Italy, 1952, 35mm, 97', bn/bw

the wayward wife
la provinciale

regia/director
Mario Soldati
soggetto/story
dall'omonimo romanzo breve di/from the short novel of the same title by Alberto Moravia
sceneggiatura/screenplay
Giorgio Bassani, Sandro De Feo, Jean Ferry, Mario Soldati, Jacques Remy (non accr./uncr.)
fotografia/cinematography
G.R. Aldo [Aldo Graziati]
montaggio/film editing
Leo Catozzo
scenografia/production design
Flavio Mogherini
costumi/costume design
Valerio Colasanti
musica/music
Franco Mannino
suono/sound
Eraldo Giordani
interpreti e personaggi/cast and characters
Gina Lollobrigida (Gemma Foresi), Gabriele Ferzetti (prof. Franco Vagnuzzi), Franco Interlenghi (Paolo Sartori), Nanda Primavera (la madre di/mother of Gemma), Alda Mangini (la contessa/Countess Elvira Coceanu), Marilyn Buferd (Anna Letizia Sartori), Barbara berg (Vannina), Renato Baldini (Luciano Vittoni), Alfredo Carpegna (il conte/Count Sartori)
produttore/producer
Attilio Riccio
produzione/production
Electra Compagnia Cinematografica