To change your life you are never too old. This at least hope Attilio, Giorgetto and the Professor, three Romans in their seventies, variously devastated, who one day decide to give up the old neighborhood life and go live abroad. Abroad where? It is only the first of a long series of questions to be resolved, but the Professor, retired after a lifetime teaching Latin, gets very bored, Giorgetto, the last splinter of the people of Rome, fails to make ends meet, and Attilio, second hand dealer and beatnik, would like to relive the emotions of the many trips made in his youth. They are all determined to change their lives and they will succeed, although perhaps not in the way they expected.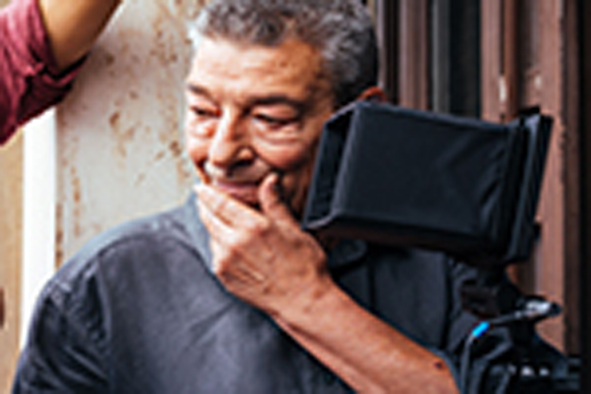 Gianni Di Gregorio
Gianni Di Gregorio (Rome, Italy, 1949) left his studies in modern literature to attend the Academy of performing arts in Rome directed by Alessandro Fersen, and graduated in directing and acting. For three years he worked in the Fersen Experimental Research Laboratory which resulted in the show Leviathan. Later he began working in film as an assistant director. He then turned to the script and wrote several films. In 1995 he met Matteo Garrone, for whom he worked as assistant director and screenwriter. In 2008 he made his directorial debut with Pranzo di Ferragosto, a great success both with audiences and critics (Lion of the Future - Venice Opera Prima Award "Luigi De Laurentiis" and David di Donatello for Best New Director).
FILMOGRAFIA
filmografia/filmography
Pranzo di Ferragosto (2008), Gianni e le donne (2011), Buoni a nulla (2014), Lontano lontano (2019).

Declaration
film director
"The idea of this film stems from a conversation with Matteo Garrone, who stimulated me to write about a poor pensioner who is forced to go abroad to improve his living conditions. The idea struck me and, after three years of work, I came to write a story first, published by Sellerio and then the script of the film. From this starting point I have come to talk about a subject that is very close to my heart: good instinct, what we all have, some more and some less."

gianni di gregorio
LONTANO LONTANO
Italia-Francia/Italy-France, 2019, 90', col.

lontano lontano

regia, soggetto/director, story
Gianni Di Gregorio
sceneggiatura/screenplay
Gianni Di Gregorio, Marco Pettenello
fotografia/cinematography
Gogò Bianchi
montaggio/film editing
Marco Spoletini
scenografia/production design
Susanna Cascella, Giada Esposito
costumi/costume design
Gaia Calderone
musica/music
Ratchev & Carratello
suono/sound
Gianluca Scarlata
interpreti e personaggi/cast and characters
Ennio Fantastichini (Attilio), Giorgio Colangeli (Giorgetto), Gianni Di Gregorio (il Professore/the Professor), Daphne Scoccia (Fiorella), Salih Saadin Khalid (Abu), Francesca Ventura (Carolina Federmann), Silvia Gallerano (funzionaria banca/bank official), Iris Peynado (Marisa), Galatea Ranzi (la signora del bar/lady in the coffee bar), Roberto Herlitzka (professor Federmann)
produttore/producer
Angelo Barbagallo
produzione/production
Bibi Film, Le Pacte
coproduzione/coproduction
Rai Cinema

**
contatti/contacts
Parthenos
info@parthenosdistribuzione.com
www.parthenosdistribuzione.com