MI CHIAMO ALTAN E FACCIO VIGNETTE
MI CHIAMO ALTAN E FACCIO VIGNETTE

A film about the great cartoonist Francesco Tullio Altan. A story about his life and career with the help of his characters, including Pimpa and Cipputi, and his friends and colleagues, such as Paolo Rumiz, Michele Serra, Vauro, Sergio Staino and Zerocalcare. Starting from Aquileia, where he lives and works, we reach "his" Turin, where there is the factory par excellence: the FIAT of Cipputi. A documentary with Altan and about the country he told and has been telling stories for over forty years, with all his aspirations, his evolutions and involutions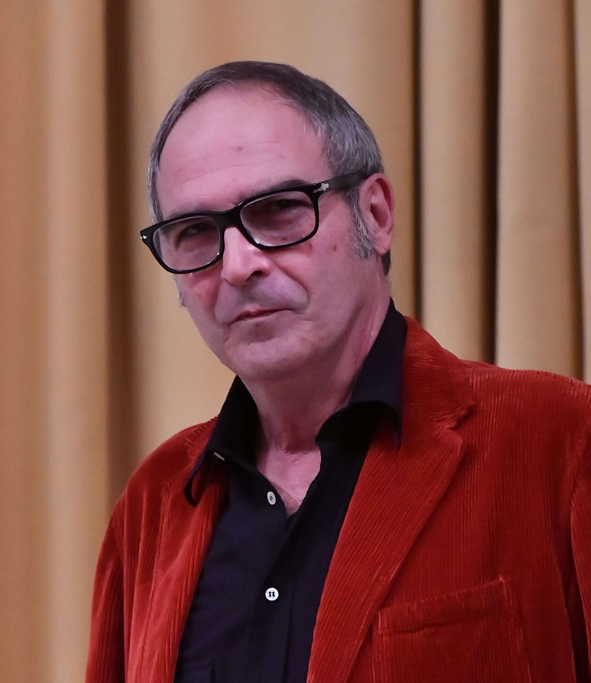 Stefano Consiglio
Stefano Consiglio (Rome, Italy, 1955) was one of the creators and curators in 1982 of Ladri di cinema, a series of meetings attended, among others, by Wim Wenders, Otar Ioseliani, Elia Kazan, Bernardo Bertolucci, Michael Cimino, Marco Bellochio, Andrej Tarkovskij, Ermanno Olmi. The following year, together with Fabio Ferzetti, he designed and curated La bottega della luce, an exhibition dedicated to the directors of photography. He collaborated as assistant director with Giuseppe Bertolucci, Roberto Benigni, Giulio Questi.
FILMOGRAFIA
filmografia essenziale/essential filmography
Stefania Sandrelli Story (mm, doc., 1990), Adolescenti in bilico (cm, doc., 1991), La camera da letto (1992), Voci per un dizionario cubano (mm, doc., 1996), Le strade di Princesa (mm, doc., 1997), Un anno dopo l'11 settembre (doc., 2002), L'uomo flessibile (mm, 2003), Appunti per un film sulla lotta di Melfi (mm, doc., 2004), Il futuro - Comizi infantili (doc., 2006), Il cinema digitale secondo Giulio Questi (mm, doc., 2007), L'amore e basta (2009), Il centro (doc., 2012), L'amore non perdona (2014), Paradiso (doc., 2016), Evviva Giuseppe (doc., 2017), Festival Verdi - Tradizione e innovazione (mm, doc., 2018).



Declaration
film director
"The great communicative force, and I would say even poetic, of Altan's work lies precisely in his ability to interpret, without necessarily seconding them, the moods, feelings (and sometimes resentments) of ordinary people, who look at  life in a way authentic, sometimes disenchanted but never cynical. A look always in step with the times, but without giving anything to the fashions of the time."
stefano consiglio
MI CHIAMO ALTAN E FACCIO VIGNETTE
Italia/Italy, 2019, 75', col.


mi chiamo altan e faccio vignette

regia, soggetto, sceneggiatura/director, story, screenplay
Stefano Consiglio
fotografia/cinematography
Paolo Ferrari
montaggio/film editing
Silvia Di Domenico
costumi/costume design
Maria Rita Barbera
musica/music
Nicola Piovani
suono/sound
Ignazio Vellucci
interpreti/cast
Francesco Tullio Altan, Stefania Sandrelli, Angela Finocchiaro, Paolo Rossi, Stefano Benni, Michele Serra, Paolo Rumiz, Ezio Mauro
produttori/producers
Andrea Gambetta, Nicola Giuliano, Francesca Cima, Carlotta Calori
produzione/production
Verdiana, Indigo Film

**
contatti/contacts
Stefano Consiglio
stefanocnsgl@gmail.com