This picture was filmed in 1967, all over the territory of the multinational Soviet Union, at that time having a population of 235 million people. The narrative develops along two lines: Life of Man and Current Events (the most significant of that year). The role of commentary text is taken up by three jazz-music themes, Fate, Love and Journey. The film's unseen ambition was to create a collective portrait of all the citizens of this vast empire, and the project was the result of collaboration among a new generation of young talent at the Riga Film Studio (including the screenwriter Herz Frank). This is a singular portrait of the USSR on the 50th anniversary of the October revolution, untainted by propaganda or ideological agenda.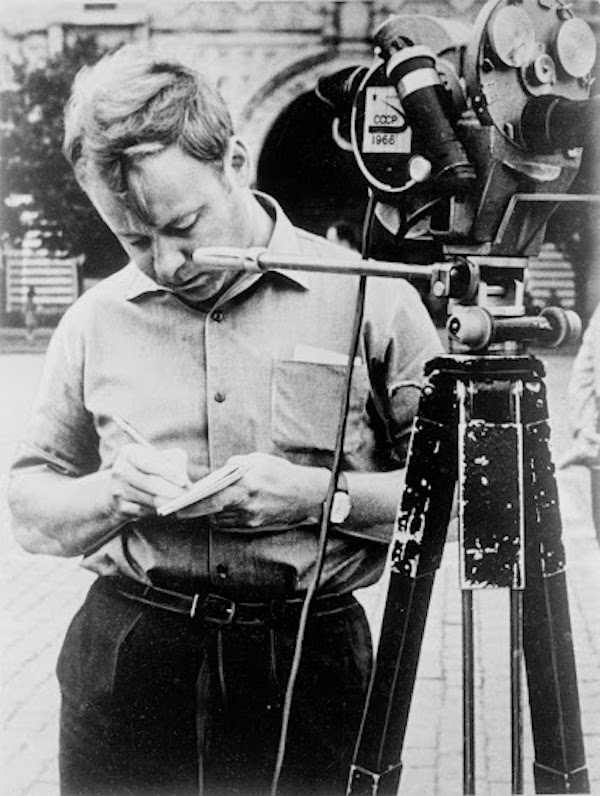 Uldis Brauns
(Kuldīga, Latvia, 1932-2017) was a Latvian director, cameraman and screenwriter. In 1959, he graduated in cinematography from the All-Union Institute of Cinematography in Moscow. Brauns' first feature film (as a cinematographer) was White Bells (1961). Subsequently, he made his debut as a director and at the same time was director of photography for the shorts The Beginning (1961), The Building (1962) and Strādnieks (1963). In 1964, he entered the Moscow Higher Courses for Directors and Screenwriters, where he presented the feature film 235,000,000 (1967) as a graduation thesis. The film won an award at the All-Union Film Festival in 1968. In 1975, he directed his only feature film, Motorcycle Summer. Later on he made impressive montage films, for example, Farewell, Twentieth Century! (2006) that tells about history of Latvia by using archival materials from 1905 till 1995. He died in 2017, at the age of 84.
FILMOGRAFIA
Sākums (The Beginning, cm, 1961), Celtne (The Building, cm, 1962), Strādnieks (The Worker, cm, 1963), 235.000.000 (doc, 1967), Motociklu vasara (Motorcycle Summer, 1975), Ceļojums uz zemi (Journey to the Land, 1977), Mana zeme, manas mīlestības pasaule (My Land, the World of My Love, 1981), Kapteinis Zaurs Sadihs-Zade (Captain Zaurs Sadihs-Zade, 1982), Mūsu dzīves zvaigžņu stundas (Stars of Our Lives, 1987), Ardievu, XX gadsimt! (Farewell, Twentieth Century!, 2005).
Declaration
film director
"The starting point of the new documentary film could be considered the moment when Uldis Brauns arrived at Riga Film Studio. According to memories of Herz Frank, he symbolizes "an image of a real documentary filmmaker" – a man dressed in plain dungarees with a pretty battered motorbike, a camera rack attached to the vehicle, with his own camera and ardent desire to discover and show the real life." (Kristine Matisa)
DIRECTOR: Uldis Brauns. SCREENPLAY: Herz Frank. CINEMATOGRAPHY: Rihards Piks, Valdis Krogis, Ralfs Krumins. FILM EDITING: Erika Meskovska. MUSIC: Raimonds Pauls. SOUND: Janis Ziverts, Igors Jakovlevs. PRODUCTION: Riga Film Studio.
CONTACT: National Film Centre of Latvia - Margarita Rimkus margarita.rimkus@nkc.gov.lv