AL BAYT AL ZAHER
by Joana Hadjithomas, Khalil Joreige




Beirut is under reconstruction. A surprising pink palace is threaten of being destroyed to be replaced by a commercial centre. This ambitious project divides the neighborhood. As the personal stories of those living in the pink house unveil, the wounds and dreams of a strange postwar period appear.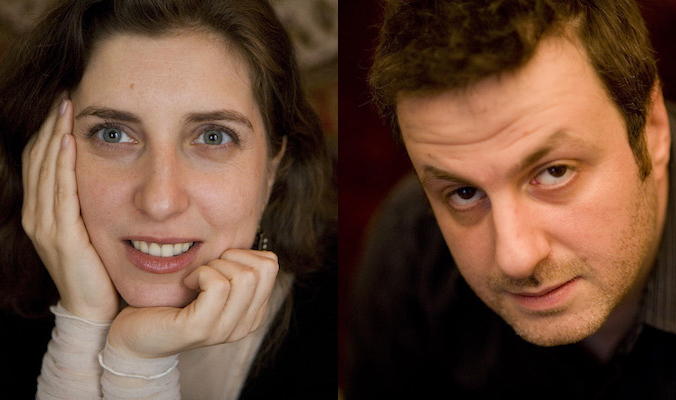 Joana Hadjithomas Khalil Joreige
(Beirut, Lebanon, 1969) directed films presented and awarded at various international film festivals. Their works have been exhibited in galleries and museums. With the latest feature Memory Box (2021) they participated in competition at the Berlinale, while with their debut film A Perfect Day (2005) they won the Fipresci award in Locarno and with the subsequent Je veux voir (2008) they participated at the Certain Regard section in Cannes. Their documentary The Lebanese Rocket Society: The Strange Tale of The Lebanese Space Race (2012) won first prize at the Doha Tribeca Festival. Several retrospectives of their films have been presented in institutions such as Cinematek in Brussels, the Lincoln Center, the MoMA and the Flaherty Seminar in New York, the Tate Modern in London, Paris Cinéma, the Institut Français and the Mori Art Museum in Tokyo, the Harvard Film Archive, the Locarno, Nyon and Gijon festivals, while in 2017 their installation On Unconformities was awarded the prestigious Marcel Duchamp Prize. Their artworks are part of major private and public collections including British Museum, Center Pompidou, Fond national d'art contemporain, MCA Chicago, Solomon R. Guggenheim and Victoria & Albert Museum in London. Hadjithomas and Joreige are the authors of numerous publications namely The Rumors of The World: Rethinking Trust in the Age of the Internet (2015) e Two Suns in a Sunset (2016). They are often invited as university lecturers in Lebanon and Europe. Both artists are co-founders of the production company Abbout Productions with Georges Schoucair, as well as executive members of Metropolis Art Cinema and the Cinemathèque in Beirut.
FILMOGRAFIA
Al Bayt al Zaher (Around the Pink House, doc, 1999), Khiam (doc, mm, 2000), Barmeh (Rounds, cm, 2001), Al Film Al Mafkoud (The Lost Film, doc, mm, 2003), Ramad (Ashes, cm, 2003), Yawmoun akhar (A Perfect Day, 2005), Open the Door, Please (ep. del film Enfances, cm, 2006), Khiam 2000-2007 (doc, 2008), Je veux voir (2008), The Lebanese Rocket Society, The Strange Tale of the Lebanese Space Race (doc, 2012), Ismyrna (doc, mm, 2016), Memory Box (2021).
Declaration
film director
"All is well. Or at least that's what everybody is led to believe in post-war Beirut. Reconstruction is booming. The war seems but a distant bracket having been permanently closed. The country's economy and the huge rehabilitation efforts around the city's central district appear as a miraculous cure for any remaining traces of a conflict that once existed. Amnesia prevails. The situation is looked at from the perspective of an old house, a pink palace of times long gone, damaged during the war, shaded off as years swept by. Two refugee families have illegally taken possession of the house and have been living in it for some eleven years. The house operates as a witness to all those years, beholding so many memories."
DIRECTION: Joana Hadjithomas, Khalil Joreige. CINEMATOGRAPHY: Pierre David. FILM EDITING: Tina Baz Le Gall. SET DESIGN: Frederic Benard. MUSIC: Robert M. Lepage. SOUND: Ludovic Hénaullt. CAST: Hanane Abboud, Fadi Abi Samra, Asma-Maria Andraos, Nabil Assaf, Tony Balaban, Issam Bou Khaled, Joseph Bou Nassar, Nicolas Daniel, Chadi el Zein, Hassan Fahrat, Zeid Hamdan, Raymond Hosni, Georges Kehdy, Maurice Maalouf, Tony Maalouf, Majdi Machmouchi, Hassan Mrad, Nicolas Mrad, Rabih Mroué, Zeina Saab de Meleiro, Mireille Safa, Ziad Said, Nagy Sourati, Gabriel Yamine. PRODUCTION: Mille et une productions. COPRODUTION: Les Ateliers du Cinéma Québécois.