After separating from his wife, Giulio lives in his car. When he is stopped by the police, he is arrested for the possession of an enormous amount of cocaine and is then violently beaten in prison. After being thrown out of the house by his wife – who discovered he was cheating on her – the woman got her revenge on Giulio and even refused to give him permission to go the United States for work. She later accused him of violence and got a restraining order against him. Nonetheless, in prison Giulio reacts and establishes relations with the other inmates and the prison personnel, and thus reconstructs a positive horizon for himself. A year and a half after entering Rebibbia, the policewoman who arrested him asks to see him: it's the beginning of a new phase that will lead to an unexpected turn of events.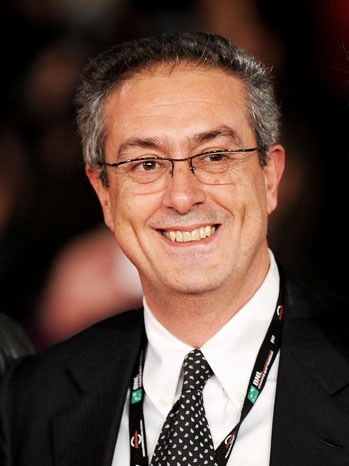 Mario Sesti
Mario Sesti (Messina, Italy, 1958) is a film critic and a documentary filmmaker. He directed, among others, The Lost Ending (2003), La voce di Pasolini (2005, codirected with Matteo Cerami), and the recent La voce di Berlinguer (2013, made with Teho Teardo). He managed the project Cinema Forever from 1998 to 2000, working on restoring several masterpieces of Italian cinema. He collaborated for thirteen years with the magazine "L'Espresso," and he published biographies on filmmakers likes Nanni Moretti and Pietro Germi. He also wrote some thorough analyses of new Italian cinema and police movies, winning the Diego Fabbri Award in 2008 for In quel film c'è un segreto (published by Feltrinelli). In 2012 he started directing the Taormina Film Festival and he is one of the founding members and curators of the Rome Film Festival.
FILMOGRAFIA
L'ultima sequenza (doc., 2003), La voce di Pasolini (coregia Matteo Cerami, doc., 2005), Fiamme di Gadda. A spasso con l'ingegnere (doc., 2013), La voce di Berlinguer (coregia Teho Teardo, doc., 2013), Senza Lucio (doc., 2014); La voce di Fantozzi (doc., 2017), Cinecittà - I mestieri del cinema. Bernardo Bertolucci: No End Travelling (doc., 2019), Mondo sexy (doc., 2019), Altri padri (2021).
Declaration
film director
"When I read the script I thought that the conflict between Annalisa and Giulio, their pain, was the pivot of the film. Yet, I soon realized how important the moment of prison was (with the producer we fought hard to get to shoot in Rebibbia), and how much the thriller and detective ending could allow the viewer to re-read the idea of relationship, family, fatherhood in a more complex and multifaceted way. Altri padri, from this point of view, is a noir melodrama that is supposed to start from the realism of a social condition, but gets to the cinema and to its power to make us fully understand the things of our world."
DIRECTOR: Mario Sesti. SCREENPLAY: Gianluca Cerasola, Mario Sesti. CINEMATOGRAPHY: Daniele Poli. SET DESIGN: Tommaso Bordone. MUSIC: Federico Badaloni. SOUND: Sergio Serafini. CAST: Paolo Briguglia, Chiara Francini, Maria Grazia Cucinotta, Lucrezia Guidone, Pino Calabrese, Antonio Catania, Stefano Antoniucci, Paola Sebastiani, Stefano Thermes, Tiziano Caputo, Sergio Pierattini, Paola Saulino, Clelia Cerasola, Mariano Aprea, Fanny Cadeo, Marcello Mancusi. PRODUCTION: Morol Production. COPRODUCTION: Rai Cinema, Gioca Gioca, Soul Movie.
CONTACT: Morol - Gianluca Cerasola info@morol.it