Rounds is a video featuring Rabih Mroué, who appears as a strangely familiar driver, filmed steering through the streets of the city. Beirut is mentioned, evoked through the driver's stories and through sound, but never seen. Invisible in overexposed whiteness, Beirut escapes definition. However, its presence is confirmed through the ongoing discourse. Like his driving, Mroué's stories spin in a circle. He seems a ghost, inseparable from his car, haunting the streets of a city where a reconstruction project is in progress. Underlying these thoughts about the car and the road system is also a reflection on the modernization project undertaken in that strange postwar period.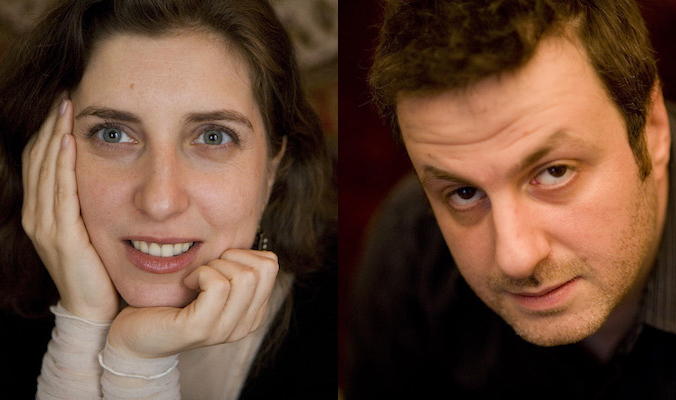 Joana Hadjithomas Khalil Joreige
(Beirut, Lebanon, 1969) directed films presented and awarded at various international film festivals. Their works have been exhibited in galleries and museums. With the latest feature Memory Box (2021) they participated in competition at the Berlinale, while with their debut film A Perfect Day (2005) they won the Fipresci award in Locarno and with the subsequent Je veux voir (2008) they participated at the Certain Regard section in Cannes. Their documentary The Lebanese Rocket Society: The Strange Tale of The Lebanese Space Race (2012) won first prize at the Doha Tribeca Festival. Several retrospectives of their films have been presented in institutions such as Cinematek in Brussels, the Lincoln Center, the MoMA and the Flaherty Seminar in New York, the Tate Modern in London, Paris Cinéma, the Institut Français and the Mori Art Museum in Tokyo, the Harvard Film Archive, the Locarno, Nyon and Gijon festivals, while in 2017 their installation On Unconformities was awarded the prestigious Marcel Duchamp Prize. Their artworks are part of major private and public collections including British Museum, Center Pompidou, Fond national d'art contemporain, MCA Chicago, Solomon R. Guggenheim and Victoria & Albert Museum in London. Hadjithomas and Joreige are the authors of numerous publications namely The Rumors of The World: Rethinking Trust in the Age of the Internet (2015) e Two Suns in a Sunset (2016). They are often invited as university lecturers in Lebanon and Europe. Both artists are co-founders of the production company Abbout Productions with Georges Schoucair, as well as executive members of Metropolis Art Cinema and the Cinemathèque in Beirut.
FILMOGRAFIA
Al Bayt al Zaher (Around the Pink House, doc, 1999), Khiam (doc, mm, 2000), Barmeh (Rounds, cm, 2001), Al Film Al Mafkoud (The Lost Film, doc, mm, 2003), Ramad (Ashes, cm, 2003), Yawmoun akhar (A Perfect Day, 2005), Open the Door, Please (ep. del film Enfances, cm, 2006), Khiam 2000-2007 (doc, 2008), Je veux voir (2008), The Lebanese Rocket Society, The Strange Tale of the Lebanese Space Race (doc, 2012), Ismyrna (doc, mm, 2016), Memory Box (2021).
DIRECTORS: Joana Hadjithomas, Khalil Joreige. SCREENPLAY: Joana Hadjithomas, Khalil Joreige, Rabih Mroué. CINEMATOGRAPHY: Ahmad al Jardali, Khalil Joreige. FILM EDITING: Nada Abdallah. CAST: Rabih Mroué. PRODUCTION: Espace Francophone. COPRODUCTION: Future Television, France 3.