1980. Texan rodeo star Mike Milo has retired due to a severe back injury. One day his friend Howard Polk hires him to travel to Mexico City and bring back Howard's 13-year-old son, Rafo, who has long been in Mexico with his mother, Leta. Upon entering Mexico, Mike meets Leta, who tells him that Rafo has turned to a life of crime. Intrigued with the possibility of seeing his father's ranch, Rafo agrees to go with Mike back to Texas, but Leta tells Mike that she wants her son to stay in Mexico and threatens him. Driving back to Texas alone, Mike discovers that Rafo has snuck onto his truck, and continues with him towards the border. Pursued by Leta's henchmen, the two get to know each other and tell each other about each other's lives, including the violence suffered by Rafo from his stepfather and the death of Mike's wife and son. The journey will allow both of them to come to terms with themselves and the future that awaits them.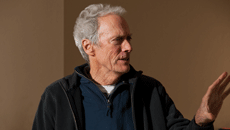 Clint Eastwood
(San Francisco, CA, USA, 1930) became famous with Sergio Leone's westerns and in 1971 he made his directorial debut with Play Misty for Me. In the following years he played the part of the inspector Callahan and continued to make westerns and films of other genres such as the biographical Bird (1988). In 1992 he won four Academy Awards with The Unforgiven and later imposed himself as a great contemporary director with works such as Absolute Power (1997), Mystic River (2003) and Million Dollar Baby (2004), with which he won the second Academy Award for Best Director and for the Best Film. In 2015 he returned to receive six nominations from the Academy for American Sniper. In 2016 Sully had its Italian premiere at the Torino Film Festival.
FILMOGRAFIA
Play Misty for Me (Brivido nella notte, 1971), High Plains Drifter (Lo straniero senza nome, 1973), Breezy (1973), The Eiger Sanction (Assassinio sull'Eiger, 1975), The Outlaw Josey Wales (Il texano dagli occhi di ghiaccio, 1976), The Gauntlet (L'uomo nel mirino, 1977), Bronco Billy (id., 1980), Firefox (Firefox - Volpe di fuoco, 1982), Honkytonk Man (id., 1983), Sudden Impact (Coraggio… fatti ammazzare, 1983), Tightrope (Corda tesa, 1984), Pale Rider (Il cavaliere pallido, 1985), Gunny (id., 1986), Bird (id., 1988), White Hunter Black Heart (Cacciatore bianco, cuore nero, 199o), The Rookie (La recluta, 1990), Unforgiven (Gli spietati, 1992), A Perfect World (Un mondo perfetto, 1993), The Bridges of Madison County (I ponti di Madison County, 1995), Absolute Power (Potere assoluto, 1997), Midnight in the Garden of Good and Evil (Mezzanotte nel giardino del bene e del male, 1997), True Crime (Fino a prova a contraria, 1999), Space Cowboys (id., 2000), Blood Work (Debito di sangue, 2002), Mystic River (id., 2003), The Blues (id., doc, 2003), Million Dollar Baby (id., 2004), Flags of Our Fathers (id., 2006), Letters from Ivo Jima (Lettere da Iwo Jima, 2016), Changeling (id., 2008), Gran Torino (id., 2008), Invictus (Invictus - L'invincibile, 2009), Hereafter (id., 2010), J. Edgar (id., 2011), Jersey Boys (id., 2014), American Sniper (id., 2014), Sully (id., 2016), The 15:17 to Paris (Ore 15:17 - Attacco al treno, 2018), The Mule (Il corriere - The Mule, 2018), Richard Jewell (2019), Cry Macho (2021).
DIRECTOR: Clint Eastwood. STORY: based on the novel
Cry Macho
by N. Richard Nash. SCREENPLAY: Nick Schenk, N. Richard Nash. CINEMATOGRAPHY: Ben Davis. FILM EDITING: Joel Cox, David Cox. SET DESIGN: Ronald R. Reiss. MUSIC: Mark Mancina. CAST: Clint Eastwood, Eduardo Minett, Natalia Traven, Dwight Yoakam, Fernanda Urrejola, Horacio Garcia-Rojas. PRODUCTION: Malpaso Productions, Warner Bros. Pictures.
CONTACT: Warner Bros. info@warnerbros.com