A passive mother who dedicates her life to her husband and children. Stuck in daily, repetitive, mundane chores, she has made herself as little as she possibly could. When a magic trick goes wrong at her 4-year-old son's birthday party, an avalanche of coincidental absurdities befalls the family. The magician turns her husband, the authoritarian father, into a chicken. The mother is now forced to come to the fore and take care of the family while moving heaven and earth to bring her husband back. As she tries to survive, she goes through a rough and absurd transformation.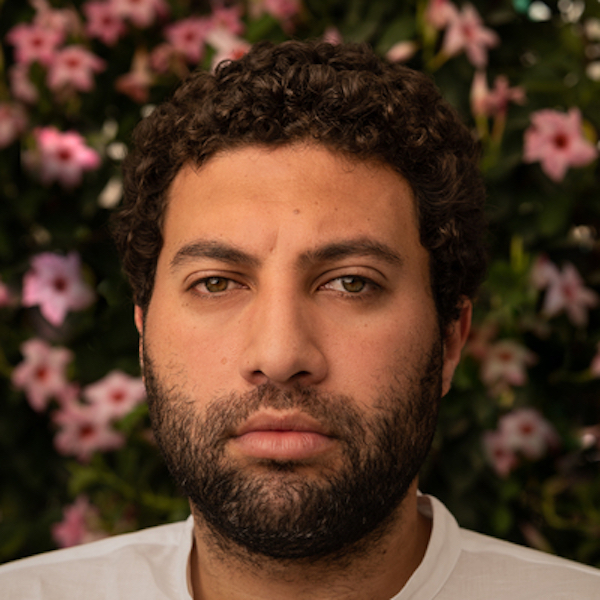 Omar El Zohairy
(El Cairo, 1988) studied film directing at the High Institute of Cinema in Cairo and worked as an assistant director on feature films of Egypt's most prominent filmmakers, including Yousri Nasrallah. His first short film, Breathe Out (Zafir), premiered at the Dubai International Film Festival and won the Muhr Special Jury Prize for Short Films. His second short film, The Aftermath of the Inauguration of the Public Toilet at Kilometre 375, was the first Egyptian film to be selected for the Cinéfondation competition at the 2014 Cannes Film Festival. The film went on to win several awards around the world. Feathers was developed in Torino Film Lab session and El Zohairy's first feature.
FILMOGRAFIA
Breathe Out (Zafir) (cm, 2011), The Aftermath of the Inauguration of the Public Toilet at Kilometer 375 (cm, 2014), Feathers (2021).
Declaration
film director
"Feathers starts from a very simple idea I had six years ago. It is the story of a man who turns into a chicken and there's serious evidence of it, it is neither a joke nor a conspiracy. Through this parable, I wanted to portray a slice of the difficult life an ordinary Egyptian family leads. Faced with this absurd situation, the members of this family react without really thinking. But they're actually stuck. And because they're anti-heroes, nobody cares about them or their issues. I feel very close to that situation and therefore, from the moment the idea of making the film came to me, I became completely obsessed."
DIRECTOR: Omar El Zohairy. SCREENPLAY: Ahmed Amer, Omar El Zohairy. CINEMATOGRAPHY: Kamal Samy. FILM EDITING: Hisham Saqr. SET DESIGN: Assem Ali. SOUND: Ahmed Adnan, Julien Gonnord, Alexis Jung, Niels Barletta. CAST: Demyana Nassar, Samy Bassouny, Fady Mina Fawzy, Abo Sefen Nabil Wesa, Mohamed Abd El Hady. PRODUCER: Juliette Lepoutre. PRODUCTION: Still Moving. COPRODUCTION: Film Clinic and Lagoonie Film Production, Kepler Film, Heretic.
CONTACT: Wanted - Anastasia Plazzotta anastasia.plazzotta@gmail.com