MEMORY BOX
by Joana Hadjithomas, Khalil Joreige




Maia, a single mother, lives in Montreal with her teenage daughter, Alex. On Christmas Eve, they receive an unexpected delivery: notebooks, tapes, and photos Maia sent to her best friend from 1980's Beirut. Maia refuses to open the box or confront its memories, but Alex secretly begins diving into it. Between fantasy and reality, Alex enters the world of her mother's tumultuous, passionate adolescence during the Lebanese civil war, unlocking mysteries of a hidden past.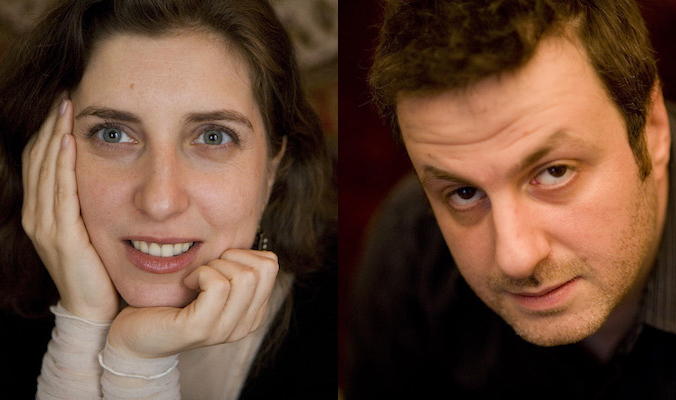 Joana Hadjithomas Khalil Joreige
(Beirut, Lebanon, 1969) directed films presented and awarded at various international film festivals. Their works have been exhibited in galleries and museums. With the latest feature Memory Box (2021) they participated in competition at the Berlinale, while with their debut film A Perfect Day (2005) they won the Fipresci award in Locarno and with the subsequent Je veux voir (2008) they participated at the Certain Regard section in Cannes. Their documentary The Lebanese Rocket Society: The Strange Tale of The Lebanese Space Race (2012) won first prize at the Doha Tribeca Festival. Several retrospectives of their films have been presented in institutions such as Cinematek in Brussels, the Lincoln Center, the MoMA and the Flaherty Seminar in New York, the Tate Modern in London, Paris Cinéma, the Institut Français and the Mori Art Museum in Tokyo, the Harvard Film Archive, the Locarno, Nyon and Gijon festivals, while in 2017 their installation On Unconformities was awarded the prestigious Marcel Duchamp Prize. Their artworks are part of major private and public collections including British Museum, Center Pompidou, Fond national d'art contemporain, MCA Chicago, Solomon R. Guggenheim and Victoria & Albert Museum in London. Hadjithomas and Joreige are the authors of numerous publications namely The Rumors of The World: Rethinking Trust in the Age of the Internet (2015) e Two Suns in a Sunset (2016). They are often invited as university lecturers in Lebanon and Europe. Both artists are co-founders of the production company Abbout Productions with Georges Schoucair, as well as executive members of Metropolis Art Cinema and the Cinemathèque in Beirut.
FILMOGRAFIA
Al Bayt al Zaher (Around the Pink House, doc, 1999), Khiam (doc, mm, 2000), Barmeh (Rounds, cm, 2001), Al Film Al Mafkoud (The Lost Film, doc, mm, 2003), Ramad (Ashes, cm, 2003), Yawmoun akhar (A Perfect Day, 2005), Open the Door, Please (ep. del film Enfances, cm, 2006), Khiam 2000-2007 (doc, 2008), Je veux voir (2008), The Lebanese Rocket Society, The Strange Tale of the Lebanese Space Race (doc, 2012), Ismyrna (doc, mm, 2016), Memory Box (2021).
Declaration
film director
"The origin of Memory Box are the notebooks and audio-cassettes addressed to a very close friend who left France during the civil war in Lebanon. Forced to separate, we promised each other to write. From 1982 to 1988, from 13 to 18, we wrote letters, recorded tapes, sent photos. For six years I told about my life, my adolescence, and civil war. From Paris, she did the same. Each month we exchanged packages containing notebooks and cassettes. Then we lost sight. One day, twenty-five years later, my friend came to visit one of our exhibitions. And just like me, she had kept everything. We exchanged our correspondence. Plunging back into those writings, into those memories of adolescence and war, finding my childish voice on the tapes, which I no longer recognized, was a very strong emotion, especially since our daughter Alya had just celebrated her thirteenth birthday."
DIRECTORS: Joana Hadjithomas, Khalil Joreige. SCREENPLAY: Gaëlle Macé, Joana Hadjithomas, Khalil Joreige. CINEMATOGRAPHY: Josée Deshaies. FILM EDITING: Tina Baz. SET DESIGN: Maïa El Khoury, Mary Lynn Deachman, Franckie Diago. COSTUME DESIGN: Lara Mae Khamis. MUSIC: Radwan Ghazi Moumneh, Charbel Haber. SOUND: Guillaume le Braz, Rana Eid, Olivier Goinard. CAST: Rim Turki, Manal Issa, Paloma Vauthier, Clémence Sabbagh, Hassan Akil. PRODUCTION: Haut et Court, Abbout Productions, micro_scope.
CONTACT: Movies Inspired commerciale@moviesinspired.it