OPEN THE DOOR, PLEASE
by Joana Hadjithomas, Khalil Joreige




This short film is part of a long feature film entitled Chilhoods. At the age of 12, Jacques is more than six feet tall while his friends are 12 to 15 inches shorter. This morning, the traditional class photo is being taken. The photographer tries to create an harmonious and symmetrical frame, according to the rules of art. But how can one integrate Jacques in the same frame than the others?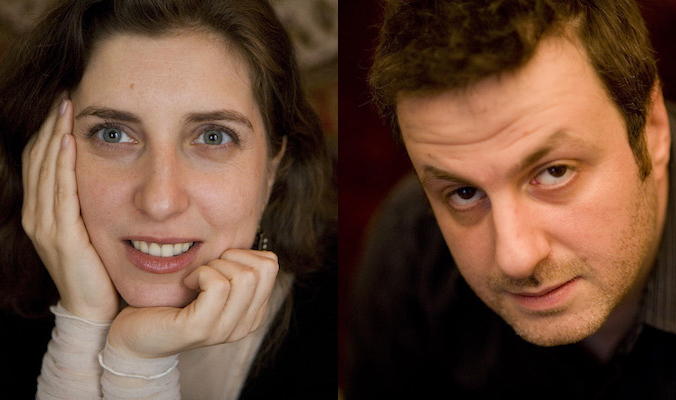 Joana Hadjithomas Khalil Joreige
(Beirut, Lebanon, 1969) directed films presented and awarded at various international film festivals. Their works have been exhibited in galleries and museums. With the latest feature Memory Box (2021) they participated in competition at the Berlinale, while with their debut film A Perfect Day (2005) they won the Fipresci award in Locarno and with the subsequent Je veux voir (2008) they participated at the Certain Regard section in Cannes. Their documentary The Lebanese Rocket Society: The Strange Tale of The Lebanese Space Race (2012) won first prize at the Doha Tribeca Festival. Several retrospectives of their films have been presented in institutions such as Cinematek in Brussels, the Lincoln Center, the MoMA and the Flaherty Seminar in New York, the Tate Modern in London, Paris Cinéma, the Institut Français and the Mori Art Museum in Tokyo, the Harvard Film Archive, the Locarno, Nyon and Gijon festivals, while in 2017 their installation On Unconformities was awarded the prestigious Marcel Duchamp Prize. Their artworks are part of major private and public collections including British Museum, Center Pompidou, Fond national d'art contemporain, MCA Chicago, Solomon R. Guggenheim and Victoria & Albert Museum in London. Hadjithomas and Joreige are the authors of numerous publications namely The Rumors of The World: Rethinking Trust in the Age of the Internet (2015) e Two Suns in a Sunset (2016). They are often invited as university lecturers in Lebanon and Europe. Both artists are co-founders of the production company Abbout Productions with Georges Schoucair, as well as executive members of Metropolis Art Cinema and the Cinemathèque in Beirut.
FILMOGRAFIA
Al Bayt al Zaher (Around the Pink House, doc, 1999), Khiam (doc, mm, 2000), Barmeh (Rounds, cm, 2001), Al Film Al Mafkoud (The Lost Film, doc, mm, 2003), Ramad (Ashes, cm, 2003), Yawmoun akhar (A Perfect Day, 2005), Open the Door, Please (ep. del film Enfances, cm, 2006), Khiam 2000-2007 (doc, 2008), Je veux voir (2008), The Lebanese Rocket Society, The Strange Tale of the Lebanese Space Race (doc, 2012), Ismyrna (doc, mm, 2016), Memory Box (2021).
Declaration
film director
"When Yann Legal conceived the project « Childhoods », he suggested we should direct an episode related to the childhood of Jacques Tati. At the outset, a historical film, made in France, was not a natural part of our filmography. We had always worked in the arab world on very personal scripts, inspired by our daily surroundings and often filmed in our own house. Being part of this project meant we had to face Tati, a history of cinema, discover whether we could work outside our natural context and extent our territory to another geography. […] No one ever explored, as Tati did, the disfunction of bodies, the very moment when the well-oiled machine suddenly jams because of a troublemaker, of a foreign body. Tati centered his cinema on that very body, a cinema often defined as a re-appropriation of the body. It is this re-appropriation we seek. The emergence of the individual is central to our cinema. When and how does one detach himself from the group and dare to assert one's difference? It is that transformation which interests us, the very instant when things evolve, the passage where Tati himself evolves from « he who is laughed at » to « he with whom we laugh ».
DIRECTORS: Joana Hadjithomas, Khalil Joreige. SCREENPLAY: Yann Legal, Joana Hadjithomas, Khalil Joreige. CINEMATOGRAPHY: Benoit Chamaillard. FILM EDITING: Tina Baz Le Gal. SET DESIGN: Catherine Mananes. COSTUME DESIGN: Agnès Noden. SOUND: Lionel Garbarini. CAST: Maxime Juravliov, Bernard Lapene, Gilbert Traina. PRODUCTION: Tara Films.