TONINO DE BERNARDI: UNA RICERCA SENZA CONFINI
TONINO DE BERNARDI: UNA RICERCA SENZA CONFINI

The cinema of Tonino De Bernardi is in constant elaboration. A tireless work in progress by an author who, at 84 years of age, hasn't stopped experimenting and making movies as though it were always a "first time." He is preparing to make a movie with Isabelle Huppert and in the meantime he has made short films that come together in this program. Shorts made by him and by others, but when they aren't his, they are directed by filmmakers who, at the moment, share his pathway. "Family" movies that are open to and onto the world. This is the genesis of the video letters between him (Scrosci di vita precedente, 30') and his cousin Tiziana Panizza (Carta sinóptica, 25') who lives in Chile; L'appuntamento mancato - Per Piera (10'), dedicated to Piera Degli Esposti; Il mare non bagna Napoli (11'), a foray into the text by the author Anna Maria Ortese; and Dissonanze (10') by Simone Chiapino, who edited the movie inspired by Ortese.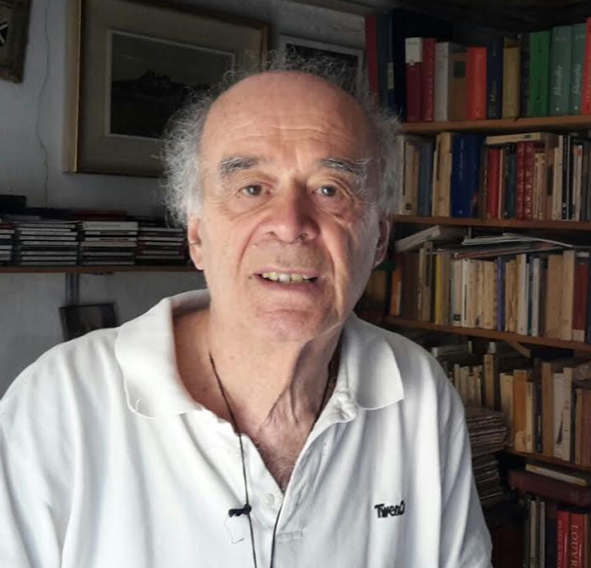 Tonino De Bernardi
Tonino De Bernardi (Chivasso, Turin, Italy, 1937) was an underground filmmaker from 1967 to 1983. He shot his first "official" feature in 1987: the film Elettra (based on Sophocles' tragedy), produced by RAI3, involved the participation of non-professional actors from Casalborgone, where he worked as a middle school teacher until 1992. Viaggio a Sodoma (1988) was the co-winner, with Jean-Luc Godard's film, of the World Wide Video Festival in Den Hag. He participated at the Venice Film Festival in competition with Appassionate (1999), and in Orizzonti with Médée miracle (2007), starring Isabelle Huppert. A restless filmmaker overflowing with projects, he makes at least a film a year. In 2018, together with his wife Mariella, he's also protagonist of Teresa Villaverde's O termómetro de Galileu, presented at TFF, in Onde section.

FILMOGRAFIA
filmografia essenziale/essential filmography
Dei (1968-1969), Il quadrato (1971-1972), Il rapporto coniugal parentale (1973-1976), L'io e le aggregazioni (1977-1979), Donne (1980-1982), Piccoli orrori (1994), Fiori del destino (1997), Appassionate (1999), Rosatigre (2000), La strada nel bosco (2001), Farelavita (2001), Lei (2002), Le cinéma dans tous ses états (ep. Terra, cm, 2002), Serva e padrona (2003), Latitudini (2003), Marlene de Sousa (2004), Passato presente (2005), Accoltellati (Accoltellatori) (2006), Médée miracle (2007), Pane/Piazza delle camelie (2008), Butterfly - L'attesa (2010), Ed è così. Circa. Più o meno (2011), Casa dolce casa (2012), Hotel de l'Univers (2013), Jour et nuit - Delle donne e degli uomini perduti (2014), Il sogno dell'India - Quarant'anni dopo (2015), Ifigenia in Aulide (2018) Resurrezione (2019)

Declaration
film director
"Covid convinced me. I thought about a cousin in Chile, a filmmaker who is the same age as our Albe. I was supposed to make La matrigna with her, the story of our family, a Chilean production, a correspondence between the two of us. Her great-grandmother, my grandfather's sister, was Bela Tolera from Chivasso, but the Spanish flu took her away from her two children. From there, Chile. Covid canceled La matrigna, but it hasn't canceled me yet: a video letter and Pantheon 2020. Then the 2020 teaser, Il mare non bagna Napoli for Ortese. Then a tribute to Piera Degli Esposti, who was taken away from Pantheon by death; to A. Tarantino; and to Paolo Gobetti. I edited it with Simone Chiapino, the son of Franco, a former student of mine, who is in this Scrosci. Simone is the author of Dissonanze. The circle closes and Gertrude Stein comes to mind, her The World is Round, 1939."
DIRECTORS: Tonino De Bernardi, Tiziana Panizza, Simone Chiapino.
CONTACT: Tonino De Bernardi toninodebernardi@libero.it