YEWMOUN AKHAR
by Joana Hadjithomas, Khalil Joreige




Stuck in a traffic jam, Malek catches a fleeting glance of the beautiful Zeina the woman he loves. Tapping text messages into his mobile phone he desesperately tries to get through to her, but she no longer wants to see him. She vanishes into the throng of midday Beirut traffic. The young man has a syndrome which interrupts his breathing during sleep. Whenever he stops moving, he dozes off adding to his disorientation. His mother Claudia has still not accepted his father's disappearance after 15 years. She stays at home should her husband return, Malek drives around the city alone in his car. Each of them trying to live with a void of lost love. But today may be the "perfect day" to lay their ghosts to rest. Malek is taking his hesitant mother to declare her husband officially dead in the "absence of a body." And that evening, in a trendy nightclub where the young of Beirut go to dance and forget their troubles, Zeina looks ready to give Malek a second shot at the love he so yearns for.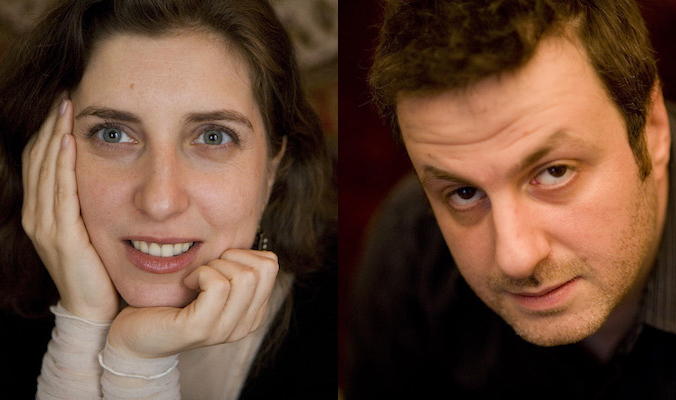 Joana Hadjithomas Khalil Joreige
(Beirut, Lebanon, 1969) directed films presented and awarded at various international film festivals. Their works have been exhibited in galleries and museums. With the latest feature Memory Box (2021) they participated in competition at the Berlinale, while with their debut film A Perfect Day (2005) they won the Fipresci award in Locarno and with the subsequent Je veux voir (2008) they participated at the Certain Regard section in Cannes. Their documentary The Lebanese Rocket Society: The Strange Tale of The Lebanese Space Race (2012) won first prize at the Doha Tribeca Festival. Several retrospectives of their films have been presented in institutions such as Cinematek in Brussels, the Lincoln Center, the MoMA and the Flaherty Seminar in New York, the Tate Modern in London, Paris Cinéma, the Institut Français and the Mori Art Museum in Tokyo, the Harvard Film Archive, the Locarno, Nyon and Gijon festivals, while in 2017 their installation On Unconformities was awarded the prestigious Marcel Duchamp Prize. Their artworks are part of major private and public collections including British Museum, Center Pompidou, Fond national d'art contemporain, MCA Chicago, Solomon R. Guggenheim and Victoria & Albert Museum in London. Hadjithomas and Joreige are the authors of numerous publications namely The Rumors of The World: Rethinking Trust in the Age of the Internet (2015) e Two Suns in a Sunset (2016). They are often invited as university lecturers in Lebanon and Europe. Both artists are co-founders of the production company Abbout Productions with Georges Schoucair, as well as executive members of Metropolis Art Cinema and the Cinemathèque in Beirut.
FILMOGRAFIA
Al Bayt al Zaher (Around the Pink House, doc, 1999), Khiam (doc, mm, 2000), Barmeh (Rounds, cm, 2001), Al Film Al Mafkoud (The Lost Film, doc, mm, 2003), Ramad (Ashes, cm, 2003), Yawmoun akhar (A Perfect Day, 2005), Open the Door, Please (ep. del film Enfances, cm, 2006), Khiam 2000-2007 (doc, 2008), Je veux voir (2008), The Lebanese Rocket Society, The Strange Tale of the Lebanese Space Race (doc, 2012), Ismyrna (doc, mm, 2016), Memory Box (2021).
Declaration
film director
"This is a personal story. The uncle of Khalil is one of the 17,000 persons reported missing in Lebanon during the war. They left their homes one morning, one evening, and never came back. Where are they? Beirut is a small city in the midst of reconstruction, the ground is constantly being excavated and yet nothing has been found. No mass graves, no traces. For us, the trauma of disappearance has not faded with time. It is an abyss, a chasm, and at the same time a wealth of possibilities. […] It is also the story of a generation, ours, which Malek belongs to. Young people with humdrum existences who let themselves be carried along the daily life. Trapped between the guilt of a dark past that is difficult to assume and the anguish of an uncertain future in a politically unstable region, how can they live in the present, love, construct, find their place in society?"
DIRECTION, SCREENPLAY: Joana Hadjithomas, Khalil Joreige. CINEMATOGRAPHY: Jeanne Lapoirie. FILM EDITING: Tina Baz Le Gal. SET DESIGN, COSTUME DESIGN: Sophie Khayat. MUSIC: Scrambled Eggs. SOUND: Guillaume Le Braz. CAST: Ziad Saad, Julia Kassar, Alexandra Kahwagi, Rabih Mroué, Carole Schoucair, Joseph Nader, Pascale Sekkar, Joseph Sassine. PRODUCTION: Mille et une Productions. COPRODUCTION: Abbout Productions, Twenty Twenty Vision.