Alma, Jean and Sebastiano are three sibling who from Paris, the city where they live in the safe, upper-middle-class environment of their mother, find themselves thrown into the arms of Carlo, an Italian father, absent, nonconformist and who has no idea how to look after himself. During a Christmas holiday by the sea with Carlo and his collaborator Benedetta, the knots of family tensions come to a head. Carlo demonstrates to his children that he is an unreliable but incredibly charismatic father and – despite the daily challenges and tensions – little Alma continues to firmly believe that one day, perhaps, his family may to come back together.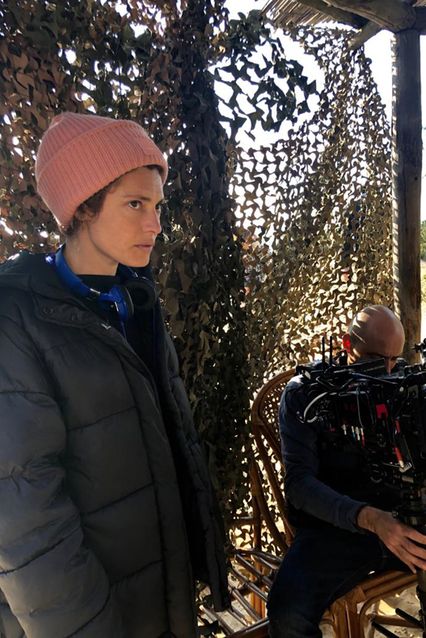 Ginevra Elkan
Ginevra Elkann (Londra, UK, 1979) holds a bachelor's degree in visual communications from the American University in Paris and a master's degree in filmmaking from the London Film School. She is president of Asmara Films, which she founded in 2010, and of Good Films, a film production and distribution company that co-founded in 2011 and with which she distributed over seventy titles in Italy, including films by directors such as Lars von Trier, Kim Ki-duk and Yorgos Lanthimos. With his production company Asmara Films he has produced, among others, Frontier Blues (2009) and Land (2018) by Iranian director Babak Jalali.
FILMOGRAFIA
filmografia/filmography
Magari (2019).
Declaration
film director
"Magari is based on memories and nostalgia and looks to the concept of family, to the fantasies of the perfect family that we pursue, especially as children. The film is about imperfect adults trying to do their best, moving between life and feelings. As a mother of three children, I am always amazed to see how the little ones adapt to the situations and ways in which they react to external events."
ginevra elkann

MAGARI
Italia-Francia/Italy-France, 2019, 99', col.
magari
regia/director
Ginevra Elkann
soggetto, sceneggiatura/story, screenplay
Chiara Barzini, Ginevra Elkann
fotografia/cinematography
Vladan Radovic
montaggio/film editing
Desideria Rayner
scenografia/production design
Roberto De Angelis
costumi/costume design
Sergio Zambon
musica/music
Riccardo Sinigallia
interpreti e personaggi/cast and characters
Riccardo Scamarcio (Carlo), Alba Rohrwacher (Benedetta), Milo Roussel (Sebastiano), Ettore Giustiniani (Jean), Oro De Commarque (Alma), Céline Sallette (Charlotte), Brett Gelman (Bruce), Benjamin Baroche (Pavel)
produttori/producers
Lorenzo Mieli, Mario Gianani, Lorenzo Gangarossa
produzione/production
Wildside, Rai Cinema
coproduttore/coproducer
Paul-Dominique Vacharasinthu
coproduzione/coproduction
Tribus P Films, Iconoclast
**
contatti/contacts
Bim Distribuzione
www.bimfilm.com