The life of Macedonian shepherds in the mountains of Abruzzo.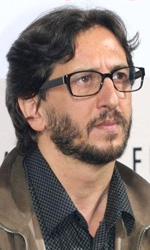 Daniele Vicari
Daniele Vicari was born in Castel di Tora (Rieti) in 1967 and graduated with a degree in film history and critique from the University of Rome. He writes for the magazines "Cinema Nuovo" and "Cinema Sessanta", and is active in cinema as a teacher and in the organization of cinematographic reviews.
FILMOGRAFIA
Il nuovo (cm, 1993), Mari del Sud (cm, 1996), Partigiani (1997, co-regia Guido Chiesa, Davide Ferrario, Antonio Leotti), Comunisti (1998, co-regia Davide Ferrario), Uomini e lupi (cm, 1998), Bajram (cm, 1998), Non mi basta mai (1999, co-regia Guido Chiesa), Sesso marmitte e videogames (cm, 1999), Morto che parla (cm, 2000).
Director: Daniele Vicari.
Director of photography: Luca Alzani.
Sound: Riccardo Silvi.
Editor: Luca Gasparini.
Production company: Anti-Kamera cinematografica, via di Pietralata 328, 00158, tel +39-6-4512483.