In preparation for the press conference on November 14 which will present the Torino Film Festival's program, here are a few of the films selected for the upcoming 37th ediiton (November 22-30, 2019):
LONTANO LONTANO directed by Gianni Di Gregorio, starring Ennio Fantastichini, Giorgio Colangeli, Gianni Di Gregorio, Daphne Scoccia, Salih Saadin Khalid, Francesca Ventura, Silvia Gallerano, Iris Peynado, Galatea Ranzi, Roberto Herlitzka; (2019, Italy). World premiere in the Festa Mobile section.
It's never too late to make a change in your life. Attilio, Giorgetto, and the "Professore," three retired men from Rome who are tired of their daily struggle to get by, dream of escaping to someplace exotic. They begin to collect the necessary money but it's hard to break their habits. Di Gregorio continues his story of harmlessly eccentric men, immersed in a lazy, sun-soaked Rome. With him, Giorgio Colangeli and Ennio Fantastichini in his last, very dynamic performance.
Produced by Bibi Film with Rai Cinema in co-production with France's le Pacte, the film will be released in cinemas on Thursday, December 5,  distributed by Parthènos.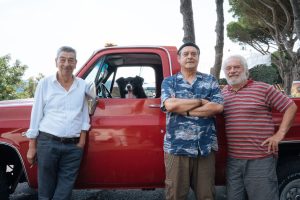 Lontano lontano, Gianni Di Gregorio, Ennio Fantastichini, Giorgio Colangeli
FRIDA VIVA LA VIDA documentary directed by Giovanni Troilo; (2019, Italy). Italian premiere in the Festa Mobile section.
A journey in six chapters in search of Frida, to the heart of Mexico, with interviews, reenactments, works of art, and documents from the era conserved in the archives of the Frida Kahlo Museum which are usually not available to the public, to recount the painter's passionate ties with her land of birth, the physical pain which tormented her and which she sublimated in her painting, her commitment to the feminist cause, and the deep cultural influence she had, which went well beyond the world of art. In the documentary, whose original soundtrack was composed by Remo Anzovino, the actress and director Asia Argento takes viewers on a journey to discover the painter, following a common thread composed of Frida's own words.
Produced by Ballandi Arts and Nexo Digital, in collaboration with Sky Arte, it will be released in cinemas on November 25, 26, and 27.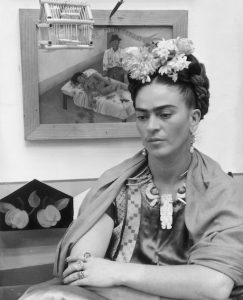 Mexican painter Frida Kahlo (1907 – 1954) sits with her arms folded, looking down, in front of one of her paintings and a wooden bird cage. She wears flowers in her hair and a wooden necklace. (Photo by Hulton Archive/Getty Images)
QUEEN & SLIM will be presented at the Torino Film Festival as an International Premiere in The Festa Mobile Section.
Directed by the two-time Grammy award-winning director Melina Matsoukas, written by the Emmy-winning Lena Waithe and starring Daniel Kaluuya, Jodie Turner-Smith, Bokeem Woodbine, Chloë Sevigny, Flea, Sturgill Simpson and Indya Moore.
While on a forgettable first date together in Ohio, a black man (Get Out's Daniel Kaluuya) and a black woman (Jodie Turner-Smith, in her first starring feature-film role), are pulled over for a minor traffic infraction. The situation escalates, with sudden and tragic results, when the man kills the police officer in self-defense. Terrified and in fear for their lives, the man, a retail employee, and the woman, a criminal defense lawyer, are forced to go on the run. But the incident is captured on video and goes viral, and the couple unwittingly become a symbol of trauma, terror, grief and pain for people across the country.
As they drive, these two unlikely fugitives will discover themselves and each other in the most dire and desperate of circumstances and will forge a deep and powerful love that will reveal their shared humanity and shape the rest of their lives.
The accompanying multi-genre soundtrack, released by Motown on November 15, showcases a range of talent across Black artists. It includes classic songs by Roy Ayers, Bilal and others plus new music from Lauryn Hill, Megan Thee Stallion, BJ the Chicago Kid, Vince Staples, Lil Baby and Tiana Major9 & EarthGang.
Presented by Universal Pictures and Makeready, in association with 3BlackDot and Bron Creative; produced by Makeready / De L Revolución Films / Hillman Grad /3BlackDot. Universal Pictures will distribute the film worldwide. The movie will be released in Italian cinemas in April 2020, distributed by Universal Pictures International Italy.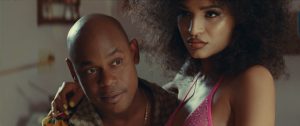 Queen & Slim © Universal Studios
THE GOOD LIAR  directed by Bill Condon, starring Helen Mirren, Ian McKellen, Russel Tovey, Jim Carter, and Jóhannes Haukur Jóhannesson. Italian premiere in the  Festa Mobile section.
The king of swindlers Roy Courtnay has set his sights on a new victim: Betty McLeish, a recently widowed millionaire. And Roy does not intend to let her get away. Right from their first encounter, Roy begins to manipulate Betty with his tried-and-true methods, and Betty, who seems quite taken with him, plays along. But this time, what was supposed to be a simple scam turns into game of cat and mouse, and the stakes will reveal the sneakiest of tricks, leading them both into a minefield of danger, intrigue, and betrayal. The superlative actors Helen Mirren and lan McKellen recite together for the first time on the silver screen in New Line Cinema's brilliant and suspenseful thriller about the secrets people hide and the lies they live. The perfect scam is directed by Bill Condon, the screenwriter who won an Oscar for "Gods and Monsters," from a screenplay by Jeffrey Hatcher based on the famous novel by Nicholas Searle. The movie will be distributed worldwide by Warner Bros. Pictures and will be released in Italian cinemas on December 5, 2019.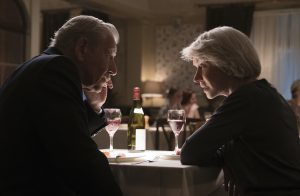 The Good Liar © 2019 WARNER BROS. ENTERTAINMENT INC._CREDITI_Chiabella James