The story of the birth and the construction of a theatrical performance that would tell the story of some young actors: the idea, the writing, the try outs, the rehearsals, the tenacity of the actor's craft, the perplexity of the parents, the work and commitment of all involved to do of Little Souls a beautiful and amusing performance. The theatrical company has a strange mixture of ideas, life styles, obsessions, aspirations, and lacks of patience. Its members experience the basic ability not to ever take themselves too seriously as well as the rage and the rigor that come out the will to do everything for the best, out of respect for the public and for their own work.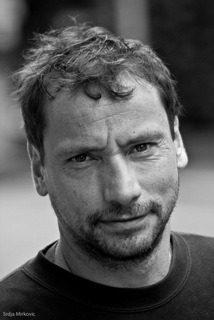 Giacomo Ciarrapico
Giacomo Ciarrapico (Rome, 1971) graduated in acting from the Centro Sperimentale in 1992. He acted in The Great Pumpkin (1993) by Frencesca Archibugi and in Nella Mischia (1994) by Gianni Zanasi. From 1994 to 1998 he wrote and directed three theatrical shows, the last of which, Piccole Anime, became a film which participated in the Torino Film Festival in 1998. Last year, his short film Dentro e Fuori; won the first prize at Nanni Moretti's Sacher Festival.
FILMOGRAFIA
Piccole anime (1998), Dentro e fuori (cm, 2001), Eccomi qua (2002).
Director and plot: Giacomo Ciarrapico.
Screenplay: Giacomo Ciarrapico, Luca Vendruscolo.
Director of photography: Giulio Pietromarchi.
Sound: Filippo Porcari.
Music: Giuliano Taviani.
Editor: Cristiano Travaglioli.
Cast: Andrea Sartoretti, Massimo De Lorenzo, Carlo De Ruggeri, Giacomo Ciarrapico, Mattia Torre.
Producer: Gianluca Arcopinto. Production company and Italian distribution: Axelotil Film, piazza Santa Maria Liberatrice 27, 00153 Roma, Italy, tel. +39-6-5745004, fax +39-6-5755242.