YOU ARE MY DESTINY - LA VITA PRECEDENTE - PERDIMI! - 6-7-8.
YOU ARE MY DESTINY - THE FORMER LIFE - LOSE ME! - 6-7-8.

La vita precedente takes place in Naples and Palermo and each of the characters has a secret life, different from what we saw in the first part of You Are My Destiny. The sun and the colors of southern Italy start the film off, but the movie alternates between day and night as it searches for a focal point that only certain actions or gestures or happenings can establish. One moves forward, but it is the everyday life of the others that constitutes this so-called reality. Carmela, Salvatore, Nunziata, Rita and the others find their destinies crossing, sometimes by chance, sometimes not, to the rhythm of a song. Perdimi! (Lose Me!) is the leit-motiv of a section of the film. "This is the second part of a trilogy which can also be considered the first one: You Are My Destiny - La vita è così 1-2-3-4-5. This second part tells the story of the preceding life, the movie goes backwards instead of forwards, and shows a 'before' in which the characters are 'different' with respect to what they will become. The geographical-visual scenery of their existence changes as well. They still don't know where life will take them. As a director, I like to mix (oppose?) fiction and documentary; this is fundamental to me (a knot that is never to be unraveled?)" (Tonino De Bernardi).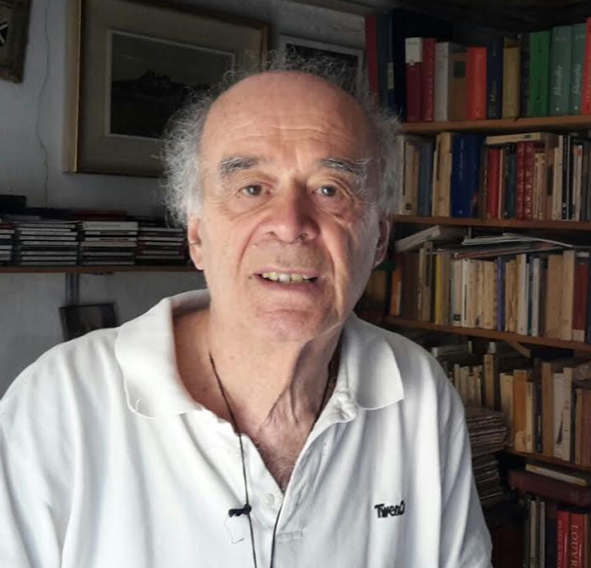 Tonino De Bernardi
(Chivasso, Turin, Italy, 1937) was an underground filmmaker from 1967 to 1983. He shot his first "official" feature in 1987: the film Elettra (based on Sophocles' tragedy), produced by RAI3, involved the participation of non-professional actors from Casalborgone, where he worked as a middle school teacher until 1992. Viaggio a Sodoma (1988) was the co-winner, with Jean-Luc Godard's film, of the World Wide Video Festival in Den Hag. He participated at the Venice Film Festival in competition with Appassionate (1999), and in Orizzonti with Médée miracle (2007), starring Isabelle Huppert. A restless filmmaker overflowing with projects, he makes at least a film a year. In 2018, together with his wife Mariella, he's also protagonist of Teresa Villaverde's O termómetro de Galileu, presented at TFF, in Onde section, just like many others films of De Bernardis'.
FILMOGRAFIA
Dei (1968-1969), Il quadrato (1971-1972), Il rapporto coniugal parentale (1973-1976), L'io e le aggregazioni (1977-1979), Donne (1980-1982), Viaggio a Sodoma (1988), Piccoli orrori (1994), Fiori del destino (1997), Appassionate (1999), Rosatigre (2000), La strada nel bosco (2001), Farelavita (2001), Lei (2002), Le cinéma dans tous ses états (ep. Terra, cm, 2002), Serva e padrona (2003), Latitudini (2003), Marlene de Sousa (2004), Passato presente (2005), Accoltellati (Accoltellatori) (2006), Médée miracle (2007), Pane/Piazza delle camelie (2008), Butterfly - L'attesa (2010), Ed è così. Circa. Più o meno (2011), Casa dolce casa (2012), Hotel de l'Univers (2013), Jour et nuit - Delle donne e degli uomini perduti (2014), Il sogno dell'India - Quarant'anni dopo (2015), Ifigenia in Aulide (2018), Resurrezione (2019), Ou n'etes vous? (mm, 2022), Universi circoscritti 2 (2022).
Regia, soggetto e fotografia: Tonino De Bernardi.
Screenplay: Giulietta De Bernardi.
Art director: Lino Fiorito.
Editor: Fiorella Giovanelli Amico.
Cast: Giulietta De Bernardi, Alberto Momo, Lavinia D'Elia, Giada Colagrande, Enzo Gragnaniello, Antonietta Francavilla.
Production company: Tonino De Bernardi - Lontane Provincie Film, via della Consolata 5, 10122 Torino, Italy, tel. +39-11-4366446, fax +39-11-4363613.
Co-production: RAI.