The true story of Remzija, a Slavic nomad who has been camped out for years on the outskirts of Turin.
"The romantic and all-consuming attempt at integration by a nomad in a city that seems ready to listen but is basically indifferent." (Mimmo Calopresti)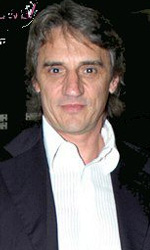 Mimmo Calopresti
Mimmo Calopresti (Polistena, Reggio Calabria; 1955) is a director and screenwriter. His films have been presented at numerous national and international festivals, including those in Salsomaggiore, Montbéliard, Munich, Stuttgart, Turin, Barcelona, Madrid, Florence, Ferrara, and Cannes. He wrote a screenplay that won the 1994 Solinas award, which he used in the making of his first feature film, La seconda volta.
FILMOGRAFIA
A proposito di sbavature (video, 1985), Ripresi (cm, 1987), Fratelli minori (cm, 1987), Paolo ha un lavoro (doc., 1991), Paco e Francesca (doc., 1992), Remzjia (doc., 1992), 1943 La scelta (doc., 1994), 43-45 Pace e libertà (doc., 1994), Alla Fiat era così (doc., 1990), La seconda volta (1994), La parola amore esiste (1998), Tutto era la Fiat (doc., 1999), Preferisco il rumore del mare (1999), La felicità non costa niente (2002), Una bellissima bambina (cm, 2004), Dov'è Auschwitz (doc., 2005).
Director: Mimmo Calopresti.
Director of photography: Gherardo Gossi.
Music: Songai.
Sound: Paolo Favaro.
Editor: Pier Milanese.
Production company and Italian distribution: Index, via Calandra 23, 10123 Torino, Italy, tel. +39011889715, fax +39-0118172356.