A man piles up an arsenal of murder weapons around his lover's bed. All these ingredients can only mean one thing: he wants to kill her. And she's asleep...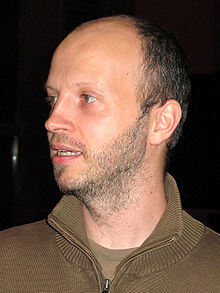 Veit Helmer
Born in Hannover in 1968, Veit Helmer has been making films since he was 13. Trained as a production-manager at German tv NDR, he studied one year theatre-directing at the Academy "Ernst Busch" in Berlin. He worked two years as assistant director for feature films. Since 1991 he is student of Munich Film School HFF.
FILMOGRAFIA
Tour d'Amour (cm, 1989), Die Räuber (cm, 1991), Zum Greifen nah (cm, 1992), Der Fensterputzer (cm, 1993), Tour Eiffel (70mm, cm, 1994), Surprise! (cm, 1995).
Director and screenplay: Veit Helmer.
Director of photography: Stefan von Borbély.
Editor: Barbara KupferCordts.
Music: Niki Reiser & NDR Bigband.
Sound: Jörg Höhne.
Cast: Max Tidof, Yutah Lorenz.
Produzione e vendita all'estero: Veit Helmer-Filmproduktion, Wormserstr. 4, 10789 Berlin, Germany, tel. e fax +49302177777.