February 1945. Even as victory in Europe was finally within reach, the war in the Pacific raged on. One of the most crucial and bloodiest battles of the war was the struggle for the island of Iwo Jima, which culminated with what would become one of the most memorable photograph of World War II: 5 Marines and a Navy corpsman raising the American flag on Mount Suribachi. The film is the story of the 6 American soldiers that the inspiring photo made instant heroes, even if some of whom would die soon after, never knowing that they had been immortalized.
"I have always been fascinated by our need for heroes; why, when faced with danger, some people follow their survival instinct and run, and others stay behind and rescue strangers. True heroes are often the people who never make it into the news. Even in war, the ones who talk and tell stories are almost always the ones who stayed in the rear. The others, the ones who survived the bloodiest battles, tend to remain silent." (C. Eastwood)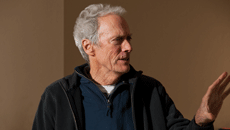 Clint Eastwood
(San Francisco, CA, USA, 1930) became famous with Sergio Leone's westerns and in 1971 he made his directorial debut with Play Misty for Me. In the following years he played the part of the inspector Callahan and continued to make westerns and films of other genres such as the biographical Bird (1988). In 1992 he won four Academy Awards with The Unforgiven and later imposed himself as a great contemporary director with works such as Absolute Power (1997), Mystic River (2003) and Million Dollar Baby (2004), with which he won the second Academy Award for Best Director and for the Best Film. In 2015 he returned to receive six nominations from the Academy for American Sniper. In 2016 Sully had its Italian premiere at the Torino Film Festival.
FILMOGRAFIA
Play Misty for Me (Brivido nella notte, 1971), High Plains Drifter (Lo straniero senza nome, 1973), Breezy (1973), The Eiger Sanction (Assassinio sull'Eiger, 1975), The Outlaw Josey Wales (Il texano dagli occhi di ghiaccio, 1976), The Gauntlet (L'uomo nel mirino, 1977), Bronco Billy (id., 1980), Firefox (Firefox - Volpe di fuoco, 1982), Honkytonk Man (id., 1983), Sudden Impact (Coraggio… fatti ammazzare, 1983), Tightrope (Corda tesa, 1984), Pale Rider (Il cavaliere pallido, 1985), Gunny (id., 1986), Bird (id., 1988), White Hunter Black Heart (Cacciatore bianco, cuore nero, 199o), The Rookie (La recluta, 1990), Unforgiven (Gli spietati, 1992), A Perfect World (Un mondo perfetto, 1993), The Bridges of Madison County (I ponti di Madison County, 1995), Absolute Power (Potere assoluto, 1997), Midnight in the Garden of Good and Evil (Mezzanotte nel giardino del bene e del male, 1997), True Crime (Fino a prova a contraria, 1999), Space Cowboys (id., 2000), Blood Work (Debito di sangue, 2002), Mystic River (id., 2003), The Blues (id., doc, 2003), Million Dollar Baby (id., 2004), Flags of Our Fathers (id., 2006), Letters from Ivo Jima (Lettere da Iwo Jima, 2016), Changeling (id., 2008), Gran Torino (id., 2008), Invictus (Invictus - L'invincibile, 2009), Hereafter (id., 2010), J. Edgar (id., 2011), Jersey Boys (id., 2014), American Sniper (id., 2014), Sully (id., 2016), The 15:17 to Paris (Ore 15:17 - Attacco al treno, 2018), The Mule (Il corriere - The Mule, 2018), Richard Jewell (2019), Cry Macho (2021).