Founded in the early 1980s, the shoe cooperative Togo numbered over thirty stores in Turin and its province. Until 2012, when that dream and that empire began to crumble. Today, all that remain are two stores and 450,000 euros in debt. Every morning, my parents and my sister wake up and don't know how they will cope. When I realized the disaster, I joined them and witnessed the explosion of malaise which, for years, I had pretended didn't exist.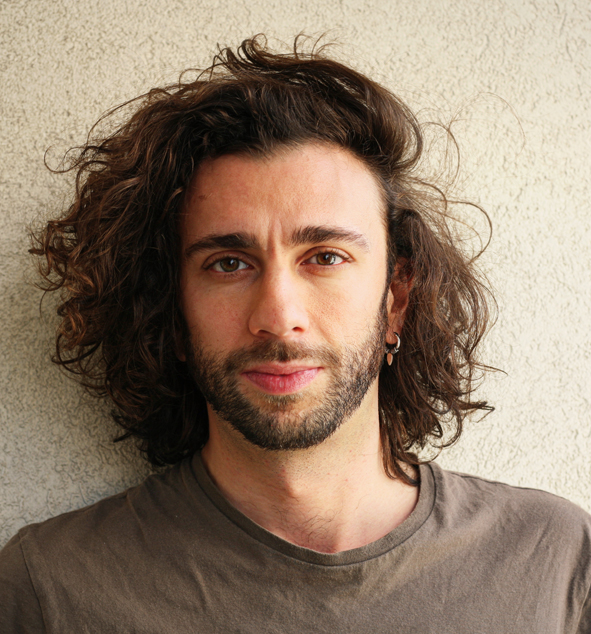 Gianluca Matarrese
Gianluca Matarrese (Turin, Italy,1980) graduated from the University of Turin and Paris VIII, and at the same time received a degree from the École internationale de théâtre Jacques Lecoq in Paris. He has been living and working in Paris since 2002. In 2008, he debuted in TV, writing a sitcom for the French television channels OCS. His work as a TV writer, reporter, artistic coordinator, and segment producer has led him to work on over twenty television programs with almost every French network. As a film actor, he has worked with directors such as Anne Fontaine, Sam Karmann, Christophe Blanc, Eric Barbier, and Moebius. He and Guillaume Lafond co-directed two fiction shorts between 2013 and 2014. One of them, Il mio bacio come al cinema, received the Achille Valdata Award at the 2014 Torino Film Festival. Fuori Tutto is his first feature-length documentary.
FILMOGRAFIA
Les Webcolocs (serie tv/tv series, 2009-2012), Mon Baiser de Cinéma (coregia/codirector Guillaume Lafond, cm, 2014), Dé-cision (coregia/codirector Guillaume Lafond, cm, 2015), Fuori Tutto (doc., 2019).
Declaration
film director
"This movie is an attempt to regain possession of my history, of my family. A private and personal, yet universal, history, which is similar to that of many families in crisis, the fall of my ordinary heroes, who resist and fight their destiny, which would like to chain them to a life encumbered by debt. There was only one thing I could do in the face of this storm which surrounds them every day: make this movie, to help my mother, my father, and my sister the one way I can, to stand by them a while longer, as though I had never left."
gianluca matarrese
FUORI TUTTO

Italia-Francia/Italy-France, 2019, 86', col.

Everything Must Go

regia/director
Gianluca Matarrese
sceneggiatura/screenplay
Gianluca Matarrese, Nico Morabito
montaggio/film editing
Cristina Sardo
musica/music
Fabrizio Modonese Palumbo, Julia Kent
interpreti/cast
Carmela Magno, Francesco Matarrese, Giusy Matarrese, Massimo Cosimo, Nicolò Cosimo, Samuele Cosimo, Sylvain Sahuquet
produttori/producers
Cristina Sardo, Blanche Guichou
produzione/production
Rossofuoco, Agat Films & Cie – Ex Nihilo

**
contatti/contacts
Rossofuoco
info@rossofuocofilm.it
http://www.rossofuocofilm.it