Country:
Romania, France, Germany, Sweden

Not everything is as it seems for Cristi, a police inspector in Bucharest who plays both sides of the law. Embarked by the beautiful Gilda on a high-stakes heist, both will have to navigate the twists and turns of treachery and deception. A secret whistling language spoken on the Spanish island of La Gomera might just be what they need to pull it off.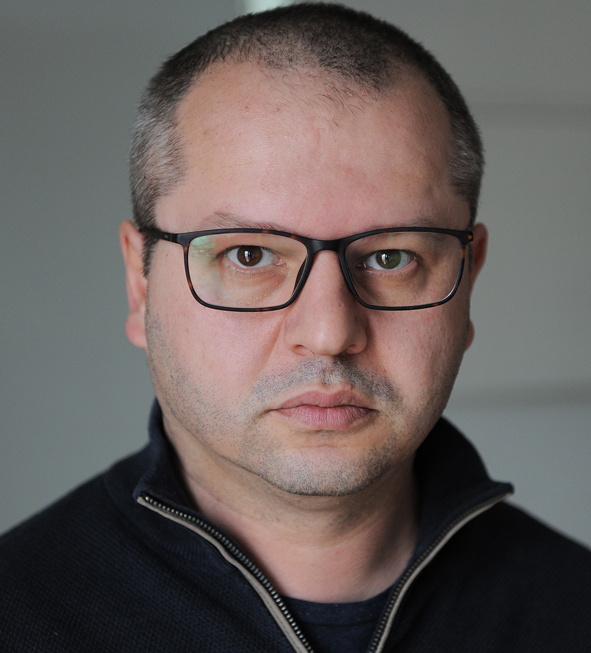 Corneliu Porumboiu
Corneliu Porumboiu (Vaslui, Romania, 1975) is a Romanian film director and screenwriter, son of football referee Adrian Porumboiu. His 2006 feature 12:08 East of Bucharest won him the Caméra d'or Prize at the Cannes Film Festival. The Treasure was screened in the Un certain regard section at the 2015 Cannes Film Festival. The Whistlers, shown in the main competition at Cannes Film Festival, was chosen as the Romanian submission for Best International Film at the 92nd Academy Awards.
FILMOGRAFIA
filmografia/filmographyGraffiti (cm, 2000), Love… Sorry (cm, 2001), Post Telefonic Suspendat Temporar (cm, 2002), Pe aripile vinului (cm, 2002), Calatorie las oras (cm, 2003), Visul lui Liviu (cm, 2004), 12:08 East of Bucharest (A est di Bucarest) (2006), Politist, Adjective (2009), La limita de jos a cerului (2013), Când se lasa seara peste Bucuresti sau Metabolism (2013), Al doilea joc (doc. 2014), Comoara (2015), Fotbal Infinit (doc., 2018), La Gomera (2019).
Declaration
film director
"Ten years ago, I saw a report on the whistled language El Silbo, practised on the island of La Gomera. At the time, I had just finished my film Politist, adjective on language and the way in which it is used for political ends. The whistled language struck me as a possibility for pursuing this theme differently. Within the context of a very ambiguous police investigation, I tell the story of a disillusioned cop, Cristi, who shows up at La Gomera to meet a woman (a femme fatale) and learn a whistled language."
corneliu porumboiu
LA GOMERA
Romania-Francia-Germania/Romania-France-Germany, 2019, 98', col.

the wistlers

regia, soggetto, sceneggiatura/director, story, screenplay
Corneliu Porumboiu
fotografia/cinematography
Tudor Mircea RSC
montaggio/film editing
Roxana Szel
scenografia/production design
Simona Paduretu
costumi/costume design
Dana Paparuz
interpreti e personaggi/cast and characters
Vlad Ivanov (Cristi), Catrinel Marlon (Gilda), Rodica Lazar (Magda), Antonio Buil (Kiko), Agustí Villaronga (Paco), Sabin Tambrea (Zsolt)
produzione/production
42 Km Film, Les films du Worso, Komplizen Film

**
contatti/contacts
Valmyn
Alkessandro Tiberio
valmyn.project@gmail.com
www.valmyn.com