Scared of life and lacking the courage to be himself, Ludovico lives hidden away in his grandmother's old apartment. One night, the wickedness of the world goes to visit him in the form of Jack, a boy who is Ludovico's age but has the opposite character: hard, determined, perhaps criminal. The forced cohabitation of two human beings who couldn't seem more different from one another turns into an initiation rite to adulthood, the discovery of their true and respective personalities. And when the harsh reality that is mercilessly stalking them appears to present the bill, they will have to face it, bolstered by a new awareness and unhoped-for courage.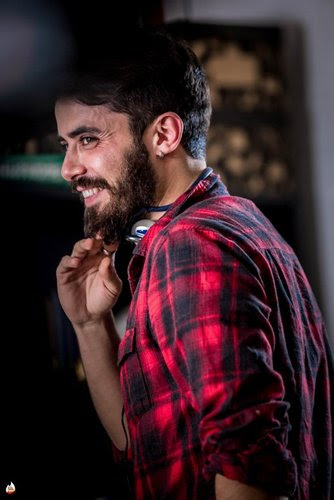 Riccardo Antonaroli
(Rome, Italy, 1987) hails from a long apprenticeship on sets, where he began working at a very young age as assistant director, alongside people from whom he gained experience with the genre and with action. His apprenticeship then turned into his true vocation: directing. One of his first films, the short Cani di razza (2017), was immediately successful, collecting eighteen awards at prestigious sector festivals and receiving a Silver Ribbon in 2018. The movie marked the beginning of a pathway that has made him one of the directors of the Disney+ series I cavalieri di Castelcorvo (2020). La svolta is his first feature film.
FILMOGRAFIA
Tinder sorpresa (cm, 2015), I guastafeste (cm, 2015), La scelta (cm, 2016), Cani di razza (cm, 2017), I cavalieri di Castelcorvo (serie tv, 2020), La svolta (2021).
Declaration
film director
"La svolta is a movie that moves among genres, a 'static road movie,' where the events follow each other as the landscape changes. It is a journey of two solitudes that, by chance, encounter and clash with each other, creating an accelerated educational pathway that the two young protagonists will be forced to experience, despite themselves. Between a smile and a tear, Jack and Ludovico, the same age but with opposite experiences and characters, will have to come to terms with an unhinged and fierce criminal universe, inhabited by bad guys with evident weaknesses, the victims of their own pride and madness. And if it's easy to see that The Easy Life is the movie's main source of inspiration, the numerous references sprinkled here and there in the house where the protagonists live are also an affectionate tribute to genre cinema."
DIRECTOR: Riccardo Antonaroli. SCREENPLAY: Roberto Cimpanelli, Gabriele Scarfone. CINEMATOGRAPHY: Emanuele Zarlenga. FILM EDITING: Esmeralda Calabria. SET DESIGN: Sonia Peng, Paola Soldini. MUSIC: Michele Braga. SOUND: Paolo Pucci. CAST: Andrea Lattanzi, Brando Pacitto, Ludovica Martino, Max Malatesta, Chabeli Sastre Gonzalez, Federico Tocci, Tullio Sorrentino, Cristian Di Sante, Aniello Arena, Grazia Schiavo, Claudio Bigagli, Marcello Fonte. PRODUCTION: Rodeo Drive. CO-PRODUCTION: Life Cinema, Rai Cinema.
CONTACT: Rodeo Drive rodeo@rodeodrivesrl.com