A solitary dancer crosses an indeterminate space outlined by fossil artifacts, cores extracted from the ground, testimony of the stratifications of time that preceded humanity. Through suspended dances, generated by fragmentation and changes of position, the movement recovers the archeological sense of the body and springs from the dialogue with the halos and swarms of energy deposited in the air. A prehistoric spinal column is recreated and each time it becomes a place of physical meditation. The dance captures whatever moves around it and crosses through it, dialoguing with the invisible forms alongside the body to construct the momentary dwelling for listening to time.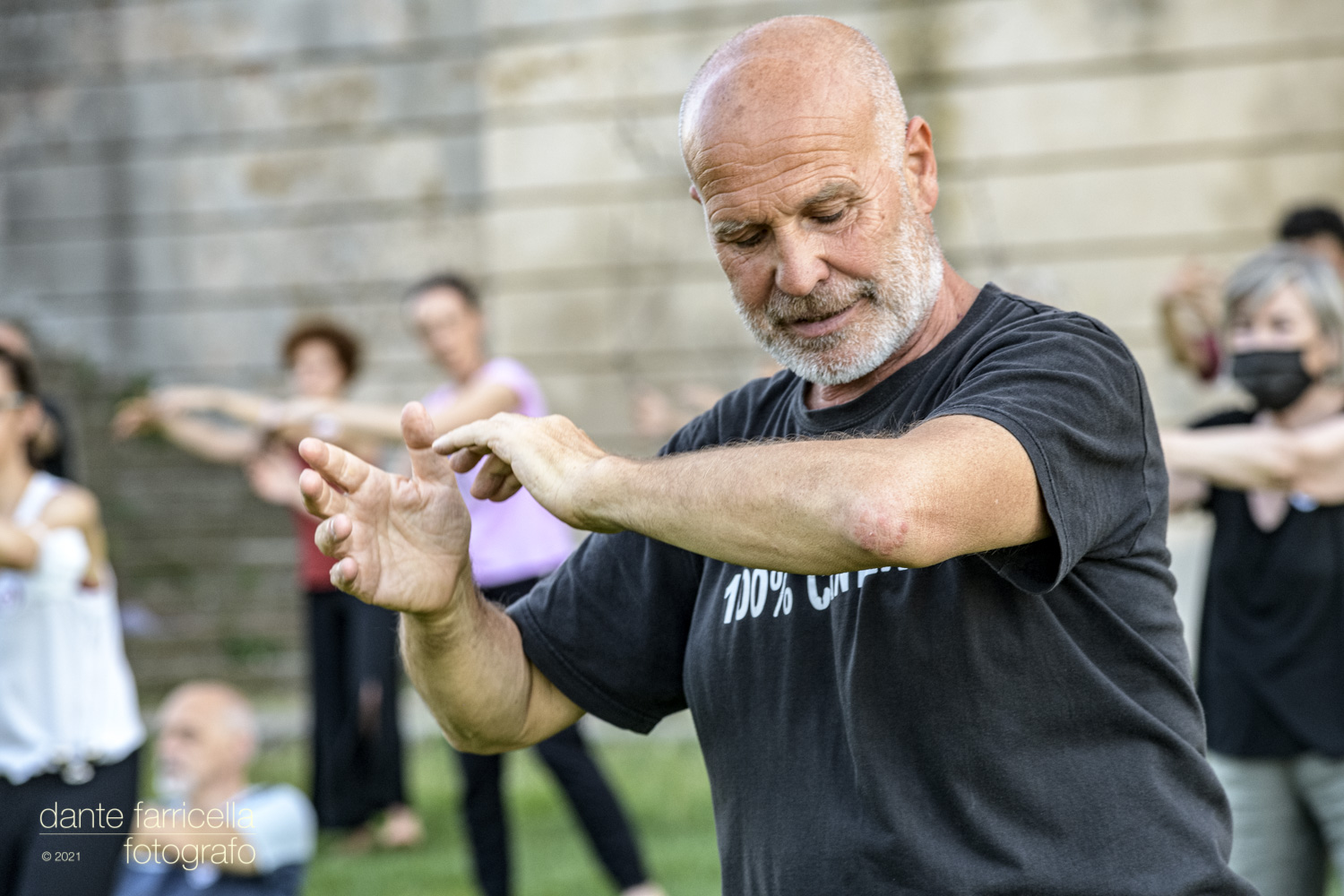 Virgilio Sieni
is an Italian dancer and choreographer, an artist active on an international level with the major theatrical and musical institutions, art foundations, and museums. His research is based on the idea of the body as a place to welcome diversity and as a space to develop the archeological complexity of the gesture. He creates his language from the concept of transmission and tactility, with an interest in the haptic and multisensory dimension of the gesture and of the individual, investigating the topics of resonance and gravity, and the poetic, political, scientific, and archeological multitude of the body. He has won the Ubu award three times (2000, 2003, 2011), the Lo Straniero award in 2011, and in 2013 he was named Chevalier de l'Ordre des Arts et de Lettres by the French Minister of Culture. He was the director of Biennale Danza from 2013 to 2016.
Declaration
film director
"Preistorico was generated by a shared experience of Virgilio Sieni, Federico Bucalossi, the dancer Claudia Caldarano, and the piece by Giorgio Andreotta Calò. An investigation of the wellspring significance of the gesture, of the possibility of dance to offer itself as a source for listening to the limbs and, thus, to ascend to – or collapse into – the archeological dimension of the body. The movie materializes physical vicinities in the form of evanescent halos that float around the protagonist. Everything interpenetrates and coexists, preparing the body to engage with the tempo of tactility."
DIRECTORS: Federico Bucalossi, Virgilio Sieni. ORGANIZZATIO: Daniela Giuliano, Elena Magini, Marialuisa Prestini (Studio Giorgio Andreotta Calò). MUSIC: Robert Ashley, Automatic Writing (1979). SOUND: Atmosphere, ASMR Sci-Fi. CAST: Claudia Caldarano. PRODUCTION: Centro nazionale di produzione della danza Virgilio Sieni, Centro per l'arte contemporanea Luigi Pecci, Studio Giorgio Andreotta Calò.
CONTACT: Centro nazionale di produzione Viriglio Segni - Daniela Giuliano cango@sienidanza.it