FRANCESCO LEONETTI, LO SCRITTORE A SETTE CODE
FRANCESCO LEONETTI, WRITER WITH SEVEN TAILS

Francesco Leonetti is a multifaceted character whose faces are impossible to separate. He reconstructs the choices taken during all the period of the Italian avant-garde movements of the last thirty to forty years, even in light of the political ides of the "new left". Within the documentary there are four short fiction episodes, which appear almost like notes in the margin. These are entitled Dialoghetti sulle grandi idee and were written by Francesco Leonetti. "Becoming Francesco Leonetti's friend was an honor for me as well as a chance to find myself fully involved in his lively, happy life so full of projects. The idea of making a documentary about him came out of this - from being around him and from friendship. I wanted to make a documentary about Leonetti, the writer and extraordinary witness, because I hold it important today to circulate examples of the sharp and lively memory of the events that have passed before us today at the end of the century" (Marina Spada).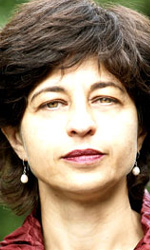 Marina Spada
Marina Spada (Milan, 1957) received a degree from the School of the Little Theater of Milan and a university degree in Music History. She teaches Film Management at School of Cinema in Milan. She shoots high-definition documentaries for NHK, the Japanese State television network, and new reports for RAI. Her short, L'astice, won second prize in the Italy Space competition of the Turin Film Festival (1996) as well as other important national and international citations.
FILMOGRAFIA
Anna dai capelli roc (1982), Un giorno dopo l'altro (1989), Le radici della libertà (1991), Amerò solo un Dio che danza (1993), Siamo tutti innamorati (1994), Maratona di New York (1994), Pietro Lingeri, architetto a Milano (1994), Fernanda Pivano, c'era una volta l'America (1995), L'astice (1996), Arnaldo Pomodoro, racconto dell'artista (1997), Dove si guarda c'è quello che siamo (1998), Francesco Leonetti, scrittore a sette code (1998).
Director and plot: Marina Spada.
Screenplay: Marina Spada, Marella Pessina.
Director of photography: Andrea Treccani.
Editor: Francesco Lupi Timini.
Cast: Francesco Leonetti, Carla Chiarelli, Fabrizio Parenti.
Production company and Italian distribution: Gianfilippo Pedote, Marina Spada - Studio Equatore, via Aosta 2, 20155 Milano, Italy, tel. +39-2-317042/314473, fax +39-2-33611001.