UN UOMO SOLO: INCONTRO CON RICCARDO FREDA

An interview with Riccardo Freda. He was born in Alexandria, Egypt, in 1909 and is one of the most revealing personalities of genre cinema. Gassman, Lollobrigida, Mastroianni, Canale, Ferzetti, and others have debuted with him. He has been widely recognized again by French critics, who consider him the best Italian adventure director. Bertrand Tavernier, who worked several times as his assistant director, made two remakes of his films.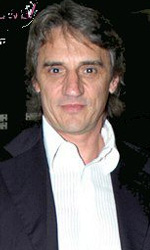 Mimmo Calopresti
Mimmo Calopresti (Polistena, Reggio Calabria; 1955) is a director and screenwriter. His films have been presented at numerous national and international festivals, including those in Salsomaggiore, Montbéliard, Munich, Stuttgart, Turin, Barcelona, Madrid, Florence, Ferrara, and Cannes. He wrote a screenplay that won the 1994 Solinas award, which he used in the making of his first feature film, La seconda volta.
FILMOGRAFIA
A proposito di sbavature (video, 1985), Ripresi (cm, 1987), Fratelli minori (cm, 1987), Paolo ha un lavoro (doc., 1991), Paco e Francesca (doc., 1992), Remzjia (doc., 1992), 1943 La scelta (doc., 1994), 43-45 Pace e libertà (doc., 1994), Alla Fiat era così (doc., 1990), La seconda volta (1994), La parola amore esiste (1998), Tutto era la Fiat (doc., 1999), Preferisco il rumore del mare (1999), La felicità non costa niente (2002), Una bellissima bambina (cm, 2004), Dov'è Auschwitz (doc., 2005).
Director and plot: Mimmo Calopresti.
Director of photography: Paolo Ferrari.
Sound: Gianluca Costamagna.
Editor: Massimo Fiocchi.
Cast: Riccardo Freda.
Production company: Scuola Nazionale di Cinema, via Tuscolana 1524, 00173 Roma, Italy, tel. +39-6-722941, fax +39-6-7211619.